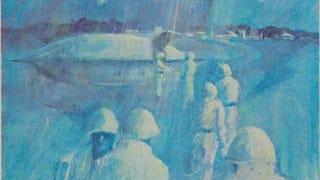 This is one of the greatest things I've seen this week. Back in 1969, Scientology's magazine Advance! put out an article about how great things would be in the year 2010... but just to hedge their bets a little, the article is set on another planet. Find out how the introduction of Scientology made everything "groovy" on the planet Mothar, including the Motharian baseball games.
Top image: Dan Vitale/Advance!.
It's hard to believe now, with its paranoid, secretive image — but Scientology was once much more openly wacky and hippie-ish. (And of course, William Burroughs had a very public flirtation with Scientology in the late 1950s and early 1960s.) And Scientologists used to go around using words like "groovy."