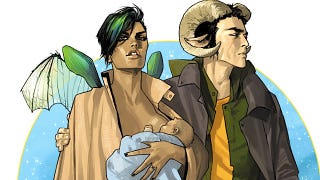 What's in stores this week? A new science fiction series from the man who wrote Runaways, presidential candidates with alien problems, and other sundry good reads. Shall we?
First Issues
Who's that goat-horned guy above? That's one of the protagonists of Brian K. Vaughan and Fiona Staples's Saga, their new ongoing space opera series on Image Comics. This is the first comic project we've seen from the author in a spell, so sign us up:
Star Wars-style action collides with Game of Thrones-esque drama in this original sci-fi/fantasy epic for mature readers, as new parents Marko and Alana risk everything to raise their child amidst a never-ending galactic war.
Another title we're particularly looking forward to is Paul Cornell and Ryan Kelly's political science fiction book Saucer Country, which is about a presidential candidate plagued by extraterrestrial visions:
Arcadia Alvarado, the leading Democratic candidate for President of the United States, says she was 'abducted by aliens.' As the Mexican-American Governor of New Mexico, she's dealing with immigration, budget cuts and an alcoholic ex. She's about to toss her hat into the ring as a candidate for President in the most volatile political climate ever. But then…a lonely road and a nightmarish encounter have left her with terrible, half-glimpsed memories. And now she has to become President. To expose the truth - and maybe, to save the world.
Also on the docket is the Lovecraftian-tinged Infestation 2: G.I. Joe (here's a preview) and Brian Michael Bendis' miniseries Avengers Assemble, which brings together the superheroic roster from the upcoming film.