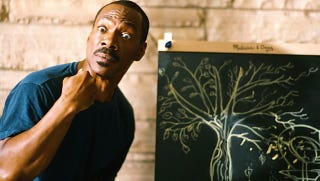 Back in July 2008, I remember reading the movie listings for Philadelphia-area movie theaters. There's absolutely no reason this memory should be emblazoned in my mind, save for one strange fact — multiple theaters in the greater Bucks-Montgomery County nexus were holding opening night 12:01 AM showings of Meet Dave, that bomb about aliens living inside a robotic Eddie Murphy's head.
NOTE: Spoilers ahead for a movie you'll watch half-asleep on mute on an airplane.
Back in the heady days of 2008, Meet Dave was released with zero fanfare (we were living in a post-Norbit era, you see). I'm pretty sure all of that movie's advertising budget was sunk into that giant creepy Eddie Murphy head that toured the nation like the public autopsy of some dead god. There was absolutely no reason Meet Dave necessitated a midnight showing, let alone at multiple theaters.
For years, I've regretted not attending a Meet Dave midnight show, if but only to see who the hell showed up. Was the theater packed with Eddie Murphy completists? Did these diehards brandish signed vinyl copies of "Party All The Time" and Vampire in Brooklyn laserdiscs?
Or would the theater transform into a deathtrap set by sinister ushers? Part of a midnight showing's appeal is the fan electricity, whooping it up with a few hundred like-minded people at the witching hour. I imagine a few of those Meet Dave screenings were totally empty, save for a carbon monoxide leak, Burmese tiger pit, or a bloodlusty orangutan armed with a straight razor. (I hope I'm not giving any of you ideas for next month's 12:01 showing of The Three Stooges.)
I've been haunted by this choice for years, ~3.75 years. So it was with a sense of immense cosmic purpose that I strode into a movie theater in New York's Union Square at 11:50 PM last night to see A Thousand Words. Who (or what) would greet me?
(I suppose the theater I picked was a bit of an outlier. Someone's always awake and bored in downtown Manhattan, so there almost certainly would be an audience. On the flip side, NYC's greater population density also guaranteed a greater probability that somebody would open a crate of badgers 10 minutes in.)
At quarter to midnight, the theater was silent like some Olmec mausoleum. This effect was achieved by a Prometheus poster and Tara Reid's jaguar sneer slapped upon some American Reunion banners.