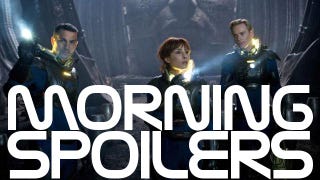 John Carter's Andrew Stanton and Michael Chabon explain the legacy of Edgar Rice Burroughs. Susan Sarandon reveals the insane process behind adapting Cloud Atlas. We may not have heard the last of Chronicle — and, for some reason, Terra Nova.
Spoilers from here on out!
Top image from Prometheus.
The Avengers
Here's a German trailer, featuring a few bits of new footage.

The two new scenes are dubbed, for so our non-Germanophiles, here's the translation:
Extended Tony Stark Scene:
Tony: And following orders is obviously not my style.
Cap: And everyone knows that style is all you care about.
Tony: From all the people around here, who wears the most figure-hugging outfit?

End Scene with Tony:
Tony: I promise a stress-free environment. No suprises.
Banner: Ow!
Cap: Hey!
Tony: You really got it under control, don't you. Whats your secret? Relaxing Jazz, Bongo Drums?
Cap: Is everything like a joke to you?
Tony: If it's funny!
---
Prometheus
The movie's Weyland Industries viral tie-in website has released this new image, which I'm going to go ahead and assume is an android's fingerprint. Here's the accompanying caption:
Weyland engineers have been working around the clock to bring you the newest, most advanced addition to the Weyland family. Stay tuned for a special announcement.
---
John Carter
Director Andrew Stanton explains why he resisted the urge to update Edgar Rice Burroughs's early 20th century conception of Mars to something that is a bit more scientifically accurate, in the process taking an inadvertent slam at Lynne Ramsey's new film: