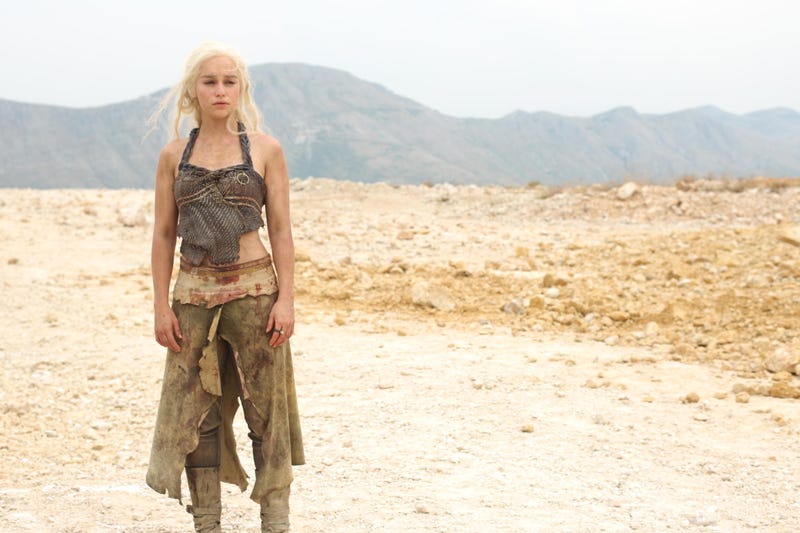 Game of Thrones comes back for its second season on April 1, and there's just one question on everybody's mind: Can this show keep up the amazingly high standard it set in its first season?
We've seen plenty of shows rock out in year one, only to hit a sophomore slump. Plus A Clash of Kings, the second book in George R.R. Martin's series, presents huge challenges for anybody trying to wrangle it into a ten-episode television show. Here are some reasons why Game of Thrones season two could have trouble... plus some reasons to have faith that they'll pull it off.
Major spoilers for the first few books in A Song of Ice and Fire ahead. Seriously, if you haven't read the first three books, stop reading now.
With Game of Thrones coming back in just a few weeks, it's fair to say that we've been obsessing over the prospects for Year Two. We've been re-reading Martin's A Clash of Kings, rewatching the first season — which holds up amazingly well — on DVD, and trying to visualize how this is going to work. One thing's clear: It's going to be a bastard.
No single clear-cut arc
Game of Thrones season one had a fairly clear storyline, even if it spawned loads of complexity and included tons of intense backstory. You could choose to see Ned Stark as more or less the main character, with Ned's appointment as Hand of the King setting in motion an arc that ends with Ned's death, and then we see the consequences of Ned's death. You could also view season one as largely about the Starks versus the Lannisters, with King Robert caught in the middle — and a few characters, such as Jon Snow and Daenerys Targaryen, largely off in their own stories.
But Clash of Kings is where the titular "game of thrones" starts acquiring an embarrassment of players. The war of the Five Kings, vaguely modeled on the War of the Roses, involves King Joffrey, his two (supposed) uncles Renly and Stannis, plus two regional "kings" — Robb Stark and Balon Greyjoy. To some extent, the story of Clash of Kings revolves around Joffrey triumphing the two strongest claimants to his throne, Renly and Stannis. But meanwhile, the stories of Robb and Balon have very little resolution in the second book.
Plus the magnificent Nicolaj Coster-Waldau has to spend basically the whole season locked in a dungeon, instead of making sexy-time or being a sword-waving bastard.
And meanwhile, a lot of the most interesting stuff in book two involves questions over how to govern — in particular, Tyrion Lannister spends a lot of time trying to "do justice" as the new Hand of the King, which involves outmaneuvering his sister and slashing away at layers of corruption. There are some great conversations about the nature of statecraft in the book — in particular, early on, Varys poses a riddle to Tyrion: a King, a priest and a rich man each command a sellsword to kill the other two — who does he obey? In other words, where does authority come from: money, religion or political power? (And it's a great sign, as Alyssa Rosenberg points out, that this conversation appears in the season two trailers.)
birth

Meanwhile, we see first Bran Stark, and then the interloper Theon Greyjoy, trying to be the Lord of Winterfell, and command the respect and obedience of the people there. At one point, Theon muses that it's better to be thought cruel than a fool — shortly before he's made an absolute fool of. Plus we don't just see the brutal rule of King Joffrey — we also see the brutal leadership of Vargo Hoat and Roose Bolton, and the brutality of Ser Amory Lorch's raiders, among other things. We see people trying to wield power at every level, and we see how seldom it really works.
But one major difference between the first and the second book is: The first book gives some sort of resolution, or a major turning point, to almost all of its characters towards the end. The second book, meanwhile, leaves some important characters in the middle of a storyline, without any clear turning point having been reached. True, there are some resolutions: Jon Snow makes an important decision, Daenerys leaves Qarth in her three boats, Tyrion has a major change in his fortunes, Arya decides to flee Harrenhal, and it appears that Catelyn Stark has made a decision about Jaime Lannister (though we don't know what.)
But in at least some cases, the book ends with cliffhangers that don't feel entirely different than some of the cliffhangers in the middle chapters. And that, in turn, makes it harder to tease out a satisfying arc for a 10-episode television miniseries.
The structure opens outwards
In many ways, A Game of Thrones is the most unrepresentative of the books in the Song of Ice and Fire series. At any given time, there are only a handful of locations in Westeros that we're following in the first book, plus of course the Dothraki Sea. In the second book, though Martin starts in earnest to follow his strategy of splitting up his characters as much as possible, opening outwards until there are characters scattered all over the Seven Kingdoms, and none of them ever run into each other.
As Martin told us in an interview last summer: