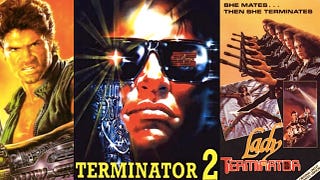 Everyone loves a good Terminator, particularly those fly-by-night movie studios whose livelihoods come from hoodwinking audience members too gullible for reality. For decades, slapping the word "Terminator" into your movie title has been all the rage — here are ten (mostly unknown, mostly unwatchable) films that have capitalized on the T-800's fame and glory.
1.) Terminator: Part 1 &2 (~2011)
The internet isn't teeming with information on this Ghanaian action flick, which I can only assume was produced by the same movie house that gave us the tour de force that was 2016. We can however glean that A.) the Ghanaian Terminator features an old man chiding a disembodied head; and B.) Terminator 2 may be about a singing tree.