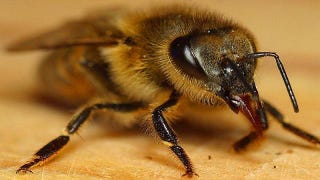 Honey bees drones actually have a large spectrum of personalities. Scientists found that some are homebodies, some are explorers, and no matter what they are, we can change them.
There are some scientific studies for which the results don't matter so much as the method of inquiry. For example, when people hear that a team led by the University of Illinois has discovered that honey bees have personalities — and how to change those personalities — the results of the study can be safely pushed aside while people focus on the question, "How in the world do you figure out that bees have personalities?"
The first step is defining what a "personality" is. Science has done this before with both octopuses and humans. The defining trait of personality is a consistent response to similar stimuli in different contexts. People (who do have personalities) do not respond to one barking dog by cowering in a corner and respond to an out-of-control horse by running up to it. Octopuses, who do not have personalities have shown that one day they will run from a strange object while another day they will investigate it.