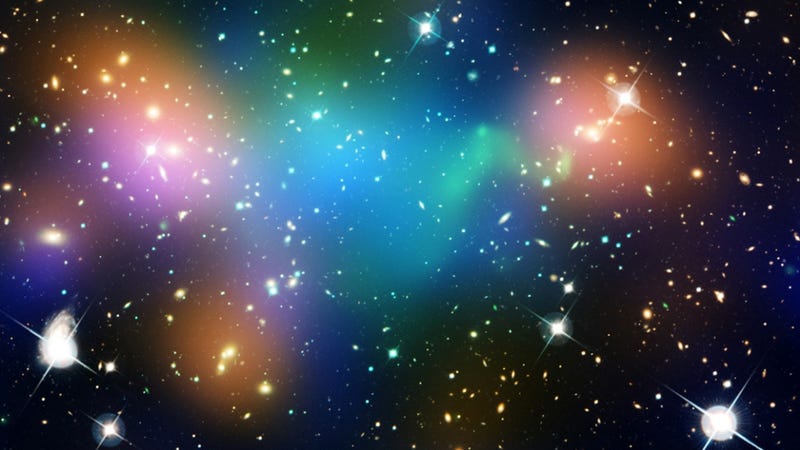 Abell 520 is one of the most gigantic mergers of galaxies we've ever seen, and it's definitely the most baffling. As galaxies smashed together and parted away, they seemingly left their dark matter behind. That's supposed to be completely impossible.
It's so impossible, in fact, that when astronomers first detected the "abandoned" dark matter in Abell 520 back in 2007, they figured the data had to be wrong. Considering Abell 520 is 2.4 billion light-years away, a bit of observation error was hardly out of the question. But now, five years later, the Hubble telescope has double-checked and confirmed the original findings. This doesn't fit with our established theories of dark matter and galaxy formation.
So what exactly is going on in Abell 520? Basically, the whole thing is a merger of different galaxy clusters that has been going on for eons. At the center of the emerging cluster are a bunch of galaxies that have been thrown together. All around them is a "dark core" of, naturally enough, dark matter. But the amount of matter in that dark core is far more than can be traced to the galaxies in the core, which must mean other galaxies left their dark matter behind as they traveled through this chaotic region of space.
That really shouldn't be possible, since dark matter is supposed to be what holds galaxies together. We first deduced its existence about eighty years ago when astronomers Jan Oort and Fritz Zwicky realized there was a major discrepancy between the mass of galaxies based on the amount of matter we could see and their observed gravitational effects. Dark matter is meant to account for that gap and serve to keep galaxies from flying apart - so the fact that galaxies seemingly ejected lots of their dark matter in the Abell 520 merger just doesn't make any sense.
Still, even though we still aren't necessarily sure of its precise nature, we have eighty years of strong experimental and theoretical evidence backing up its existence. As such, this isn't a moment where we should throw up our hands and shout, "Ha! Scientists are wrong about dark matter!" This is one piece of evidence that seemingly contradicts a whole lot of other data backing up the current dark matter model - check out Dr. Dave Goldberg's primer if you want the specifics - but it does seem to be one of the most compelling challenges to the current model that we have yet encountered.