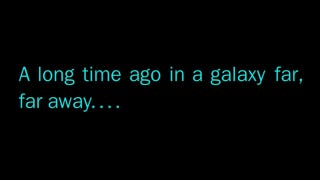 "A long time ago, in a galaxy far, far away…" Each one of Lucas' Star Wars films starts with these lines, distancing the story from our setting. But, what if we could determine roughly how long ago is a long time ago?
Using a couple of Star Wars Expanded Universe resources and a little math, placing the events of the Star Wars Universe into our own timeline is possible, with some very interesting results.
Linking Lucas' Universe to Our Own
Using the story Into the Great Unknown from Dark Horse's Star Wars Tales #19, the events of the Star Wars Universe can be tied to our own timeline, as long as a couple of assumptions are made.
In the opening of the non-canonical Into the Great Unknown, Han and Chewbacca are forced to make a jump to hyperspace to flee Imperial attackers. (OK yes, we know it's non-canonical, but this is a thought experiment so just bear with us.) The Millennium Falcon crash lands on Earth, where Han and Chewbacca are attacked by Native Americans. Han receives several arrow wounds in the process, and Chewbacca holds his partner as the last bit of life flees from him. The second half of the story leaps 126 years into the future, with Indiana Jones and Short Round searching for Sasquatch in the forests of the Pacific Northwest, only to find Chewbacca and the bones of Han Solo.