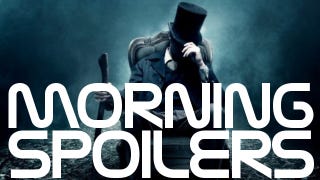 Director Timur Bekmambetov and star Benjamin Walker discuss Abraham Lincoln: Vampire Hunter. Vin Diesel releases two more Riddick photos. A Breaking Bad actor joins J.J. Abrams's latest pilot Revolution. Plus the latest news on Awake and Once upon a Time!
Spoilers from here on out!
Top image from Abraham Lincoln: Vampire Hunter.
Man of Steel
Michael Shannon talks some more about General Zod:
"Zod has some speeches; he has some cool speeches. I got to say some cool stuff, but I can't say any of it right now."
And then, because Michael Shannon straight up doesn't give a crap, he said this, which sure sounds like the sort of cool stuff he says in the movie:
"Do you realize the universe is constantly shrinking, Superman?"
Sounds like a certain Kryptonian general isn't on board with the whole dark energy thing. You know, I'd be surprisingly OK with this movie centering on a debate about cosmology, if that's the way Zack Snyder wants to go. [MTV News]