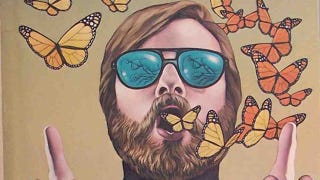 Science fiction is great when it's weird. Really bizarre science fiction takes you on a wild ride, blowing past genre conventions and depositing you someplace miles from where you started. But where can you find the truly odd stuff?
Like hallucinogenic spores in a subterranean cavern, the most mind-bending science fiction books can take some digging. We asked around, and here's what we came up with: the 10 weirdest science fiction (and fantasy) books that you've probably never read.
10. This Business of Bomfog, by Madelaine Duke (1967)
Cover tagline: "The Astonishing World of 1989 — A World of People Gone Mad, Mad, Mad." This is recursive bit of Philip K. Dick-esque metafiction, set in a Orwellian dystopia where the Brotherhood of Man, Fatherhood of God (BOMFOG) complex tries to prevent wars by giving Important Guests access to perpetual-motion art and private swimming pools. Key line of dialogue: "Sex is part of our reeducation program."
9. The Tsaddik of the Seven Wonders by Isidore Haiblum (1971)
A Tsaddik is a Hasidic spiritual leader or wise person, and this book is legendarily steeped in Jewish lore, as the main character visits various times and places in Jewish history. Writes Eleanor Skinner in her Amazon review, "The tsaddik wanders around through time & space, while a wisecracking Retief/James Bond sort of figure from a galactic bureaucracy accidentally rescues a Polish princess. Eventually they all meet to fight an intergalactic real estate conspiracy, culminating in a climactic battle between hordes of demons & time-hopping Chassidim in a Polish castle. 60s psychedelia meets Yiddish humour."
8. All of An Instant by Richard Garfinkle (1999)
A scientist discovers a place called the Instant which, as Amazon's summary puts it, is "a paradoxical nonplace that is simultaneously all times and no time." Soon everybody's battling to control the Instant, where changes ripple forward and alter the future. Every little ripple erases entire cultures and wipes out whole timelines. The SFSite review conveys just how weird this book gets:
In addition to the normal dimensions of height, width and depth, duration forms a fourth dimension in the Instant, and it places limitations on the memories and abilities of its inhabitants. Kookatchi, for instance, has a particularly short duration, and therefore his memory recycles frequently, only allowing him to retain the most vital of information. Nir, the War Chief from the Now, has a duration of a decade which allows him to take part in longer term planning, although Garfinkle reveals that those inhabitants with longer a duration have a more difficult time seeing the Instant for what it really is.
7. Passing for Human, by Jody Scott (1977)
Benaroya is a giant space dolphin who's only interested in pleasure, until she decides to study humans. To do this, she disguises herself as Brenda Starr, the girl reporter from the newspaper comics. As she tells one human, "You might say I try to relate in a meaningful, concerned way to autochthonous bipeds in general." Later, Benaroya disguises herself as Emma Peel (from The Avengers) and author Virginia Woolf. Other members of her species are disguised as Abraham Lincoln and George S. Patton, while their support drones look like Richard Nixon. While disguised as Virginia Woolf, Benaroya gets herself captured by a race of psychopathic aliens who want to destroy the Earth, and you get a weird scene where Virginia Woolf debates whether it's a bad thing to fall in love with the leader of a group of genocidal alien psychopaths.
6. Time Snake and Superclown by Vincent King (1976)
We reviewed this one back in 2008, and it's still hard to come up with a summary of the plot. Let's just say that the main character is living on Earth, observing a species of wraiths who are pretending to be human. While investigating this insidious plot, the hero has bad sex with a female wraith, who transforms his face into a clown mask — permanently — and steals his pants. He doesn't notice his pants are missing for about 20 pages, and when it finally dawns on him that he's pantless, he observes, "I must have been really bad not to have noticed that." The girl also cuts off his "strobe," trapping him on our planet because he can't access his spaceship. She eventually tells him he's destined to fight the Time Snake, which is coming to eat the world — but should he trust the girl who turned him into a clown and stole his pants? Probably not, but he does anyway.