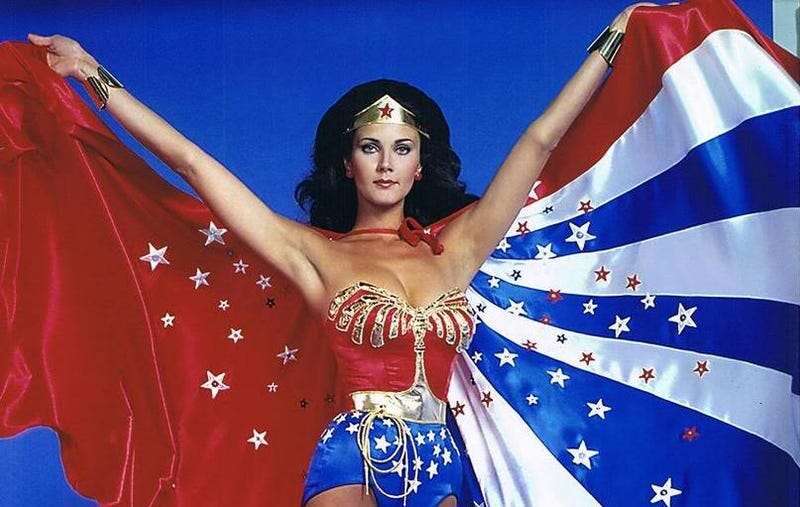 Poor Wonder Woman. Her television show got scrapped without even airing one episode, and her movie's been in development hell since the early 1990s. Batman and Superman both get big-screen reboots, but Diana Prince can't even get booted up for the first time.
It's not for lack of trying. Many attempts have been made to adapt Wonder Woman to other media over the years, besides her successful 1970s TV show. Everybody tried to reinvent Wonder Woman, from the creator of Lois and Clark to the inventors of She-Ra. Here's the complete history of failed Wonder Woman adaptations.
---
The 1950s
Wonder Woman first appeared in comics in 1941, and there were attempts as early as the 1950s to get Hollywood to create a live-action Wonder Woman serial, according to The Superhero Book by Gina Renée Misiroglu. But the tide was probably against Diana Prince — in the 1950s, anti-comic crusader Fredric Wertham accused Wonder Woman of being a lesbian with a "a sadistic hatred of all men." Plus people sort of noticed how full of weirdly sexy bondage her comics were in the early days, something creator William Moulton Marston admitted to openly.
Also, after World War II, Wonder Woman was retooled in the comics to make her less of a war hero and more of a traditional woman — she worked as a fashion model, movie star, and a "lonely hearts" columnist in the newspaper, according to the book Female Action Heroes by Gladys L. Knight. She spent more time on romance, and less time fighting bad guys — and at one point, she actually married a monster. So Hollywood producers may well have looked at the 1950s comics and seen less potential for a live-action adaptation — until the popularity of Emma Peel and other similar heroines changed their minds in the 1960s.
---
The 1960s
In 1966, the first Wonder Woman story appeared outside of the comics: an audio story, released on a seven-inch single. And it was apparently atrocious, judging from the description in Wonder Woman: The Complete History by Les Daniels. Side one is basically taken up with a "groovy" theme song featuring copious electric guitar and organ, with the lyrics:
Wonder Woman, Wonder Woman, Wonder Woman, Wonder Woman,
How I wonder 'bout the wonder,
The wonder, the wonder, the wonder,
Of you.
Side two introduces a brand new villain named Brunhilde, who mostly fights Steve Trevor — Wonder Woman barely appears at all.
And then in 1966 or 1967, depending on which source you consult, the first abortive pilot was filmed for a show called Who's Afraid of Diana Prince?. William Dozier (Executive producer for Batman, The Green Hornet) wanted to do a "campy series," but never got past the pitching stage. Dozier apparently made a four-minute short film to show Warner Bros., starring Ellie Wood Walker as a plain woman who, when she looks into the mirror, sees Wonder Woman — and the implication is that she's delusional. Not exactly promising stuff.
In 1969, Wonder Woman sort of shows up in Midnight Cowboy, the only X-rated movie to win an Oscar for Best Picture. At one point, a little girl covers her face with an issue of the Wonder Woman comic.
---
The 1970s
In 1972, Wonder Woman made her first broadcast, and first animated appearance, as a guest on The Brady Kids, a cartoon spinoff of The Brady Bunch. In the episode, the Bradys time travel to ancient Greece, win the Olympic Games, and qualify for the Marathon. Wonder Woman tells them they must disqualify themselves to avoid changing history.
And then starting in 1973, Wonder Woman was a founding member of the Super Friends in the animated series of the same name.
And then in 1974 came Wonder Woman's first live-action appearance on actual TV. The made-for-TV movie featuresCathy Lee Crosby starring as a blonde Wonder Woman who wears a costume that deviated from the comics. Plus she has no special powers, and doesn't keep her identity very secret. She helps government agent Steve Trevor to pursue villain Abner Smith — who, as MinervaAlpaca points out in the comments, is played by Ricardo Montalban... aka Khan! The pilot aired twice that year, and then ABC chose not to make a full-blown show using that pilot, and the studio said updating Wonder Woman was a mistake. And apparently, this is the version that Angela Bowie auditioned for, but lost out on because she wouldn't wear a bra.