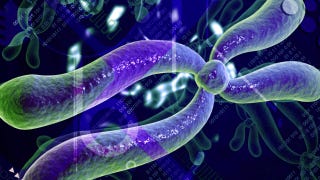 A few years back, we learned that the Y chromosome was essentially rotting, shedding hundreds of its genes over the last 300 million years. That isn't wrong, but it turns out reports of the Y chromosome's eventual extinction were premature.
The X and Y chromosomes first emerged as the two sex-determining chromosomes - X for female, Y for male - somewhere between 150 and 300 million years ago, depending on which evidence you look at. Whatever the precise timeframe, the story remains much the same. While all the other chromosomal pairs - there are 22 of these in humans, plus a combination of X and Y to make 23 - kept swapping genes with each other over the generations, the X and Y chromosomes stopped this crossing over process.
That's where the trouble started for the Y chromosome. Because it's the lesser partner here - everyone has at least one X chromosome, but only males have a Y chromosome - it suffered more from the cessation of communication between chromosomes. When one of the segments of the X stopped crossing over with the Y, the male chromosome underwent rapid genetic decay. Four more X segments stopped crossing over, and the freefall continued so that today the modern X chromosome possesses just 19 of the original 600 or so genes that made up its ancestor chromosome.
That discovery is what led to reports of the rotting Y chromosome, and it's that notion that David Page, the director of MIT's Whitehead Institute, has spent the last decade trying to refute. Now, he says he and his team have found the most conclusive proof yet that the Y chromosome is in no danger of winnowing away to nothing. It's all a question of timescales.