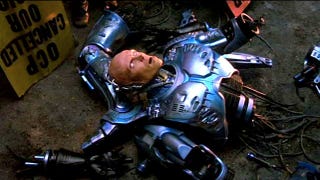 Paul Verhoeven's RoboCop was mordant critique of Eighties corporate excess, what with its privatized police department and dystopian fake advertisements. But like some sort of cyborg ouroboros, RoboCop himself became a media personality and the pitchman for many a bizarre product. Here are ten times RoboCop has moonlighted as something other than Detroit's finest man-machine. Watch as his dignity is completely disassembled!
10.) Professional Wrestler
To promote RoboCop 2, the hero appeared at the 1990 WCW Capital Combat pay-per-view event, where he saved noted greasepaint aficionado Sting from a metal cage. Wrestling crossovers have not reached such heady apices since the Muppets showed up on WWE Raw last year.
9.) Marvel Comic Stalwart
Before he appeared in Dark Horse Comics' seminal 1992 beat-em-up RoboCop Versus Terminator, Officer Murphy was part of the Marvel stable of characters, thanks to Marvel Productions' RoboCop: The Animated Series and his own comic series. He even appeared on the most eyesore float in Macy's parade history.