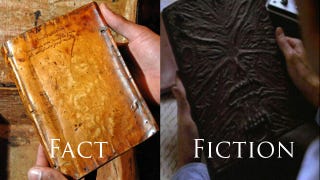 Rare old books are occasionally bound in human skin, including nipples, and even the face of a Guy Fawkes conspirator. Antiquarians have discovered these grisly leather covers on prayer books, astronomy treatises, court cases, and anatomy texts — all written in the past three to four hundred years.
Let's take a look at a how human skin was obtained to bind these books, a couple of particularly strange donors including a 1605 Gunpowder Plot conspirator (now memorialized on Guy Fawkes Day), and binders who aimed to maintain the structure of specific body parts for erotic texts.
Top image is a construction featuring a copy of A True and Perfect Relation and the Necronomicon Ex-Mortis from Evil Dead II, one of the better known fictional applications of anthropodermic bibliopegy.
What Is Anthropodermic Bibliopegy, and How Do You Do It?
Rising in popularity during the 17th and 18th Centuries, the practice of binding books in human skin, anthropodermic bibliopegy, fell off due to its macabre nature near the end of the Victorian Age. Physicians enjoyed the practice, often using human skin, regardless of the source, to bind anatomy texts.
A few examples of books with anthropodermic binding are bound out of affection for the author, but most early examples of anthropodermic bibliopegy are the result of human skin claimed from medical cadavers or criminals sentenced to death, with their skin used to bound the record of their trials as a form of punishment that surpasses death.