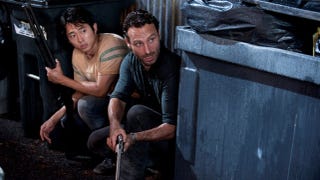 If Hershel's farm was making you stir crazy, last night's episode of The Walking Dead, "Triggerfinger," should've been a welcome field trip. This episode gave us that slam-bang infusion of morally fuzzy, post-apocalyptic decision-making we crave.
Also, Lori had her Lady Macbeth moment, and Hershel and Rick need a homespun webisode spin-off, Zombie Dads, in which birdhouse repair, clay pigeon shooting, and tomato canning become metaphors for humanity's dwindling scruples. Spoilers on!
After watching last week's episode — which hinted of good things while delivering some yawn — I began wondering why Season 2 of The Walking Dead still has its hooks in me, despite some aggressively mediocre characterization.