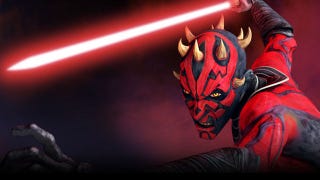 Clone Wars takes the week off, but we've got a sneak preview of the season finale featuring an appearance by Darth Maul! This Saturday morning also brings clips from this week's episodes of Adventure Time, Archer, and a couple of new reader request shows! Minor spoilers ahead!
Star Wars: The Clone Wars – "The Phantom Menace Darth Maul Teaser"

Clone Wars is off this week, but here's a look at one of the best characters in the prequel universe in his return during the finale of season 4. This teaser is showing before screenings of the 3D version of Star Wars: Episode I - The Phantom Menace in some regions.