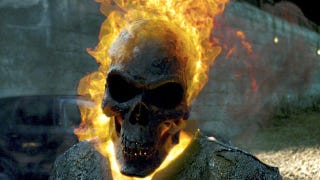 Before you see Ghost Rider: Spirit of Vengeance, consider the following question: "Does the mantra 'Put the bunny back in the box?' make the tiny follicles on the nape of my neck stand up?"
If so, Spirit of Vengeance will light the fire in your belly like a kerosene/Thunderbird gimlet with an 800,000-Scoville-units habanero as a chaser. If not, this film may hold the appeal of a field trip through the Seventh Circle of Hell (and you have to write a school report about it).
NOTE: Minor Spoilers for Spirit of Vengeance ahead.
The road to Spirit of Vengeance has not been an easy one. This film takes a cue from 2008's The Incredible Hulk, another Marvel Comics superhero adaptation. Just as that film mostly ignored everything that happened in Ang Lee's 2003 Hulk, this film spends 30 seconds recapping 2007's Ghost Rider.
So yeah, it is the sort-of-not-really sequel to a movie everyone sort of-not-really enjoyed (but was profitable enough to warrant a follow-up). These aren't the most auspicious conditions to launch a film. Abysmal early buzz and a depressing, convoluted series of lawsuits between Marvel Comics and Ghost Rider co-creator Gary Friedrich have only been the crap flurries of a potential box office shitstorm.