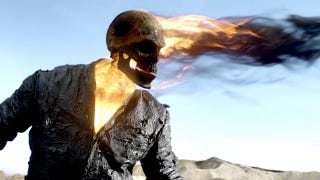 In Ghost Rider: Spirit of Vengeance, Crank and Gamer directors Brian Taylor and Mark Neveldine take us to the highways of rural Turkey where Nicolas Cage's head explodes into a vengeful fireball. io9 spoke with the directors about the craziness of the film's shoot and Cage's voodoo method acting.
First off, one of the most visually striking aspects of Spirit of Vengeance is how you frame the story with these vast shots of the Eastern European highway system.
Brian Taylor: We went on scouts, but in terms of filming and production, everything is guerilla with us. We have no time and no money and we're in a country that is not our language with only one of our original crew members.
Mark Neveldine: There was almost no film infrastructure. The perception is that we're these guys who always do these fucked-up movies, and now we're working with a big studio and a Marvel Comics character. People think, "Oh, it's the big time now!" No, this is about as punk rock as any shoot we've ever done, and more so in a lot of ways. We had times where major stunts would go completely wrong, but they failed so spectacularly. You don't have the time and money to do it again, so you have to rewrite the scene on the fly.
BT: At one point, there's a car crash on a bridge. The car was just supposed to slide into the divider, but it instead almost killed our stunt guy. We had to rewrite on the spot.
MN: We were out there in remote locations where they don't make movies. Fortunately, the locations are fucking amazing, Cappadocia, Transylvania. In Cappadocia, the mayor gave us the key to the city.
BT: We didn't really understand what anyone was saying, but they were excited to see us, and we were excited to be there. Imagine the desert planet from Star Wars IRL, but with some of the best food you've ever had.
How did you create Ghost Rider's voice? It's got this swarm-of-locusts quality about it.
BT: We had Nick do it, but we also did something really strange. Nick's son Weston is a supernatural character in his own right, and we had him come in and do some incredible otherworldly vocals. We mixed Weston's voice in with his dad's when Ghost Rider speaks.
What's the best way to coax a great performance out of Nic Cage?