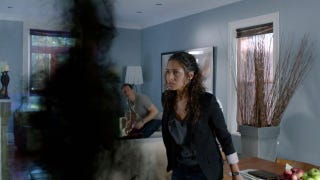 Everybody is getting laid and dead on Being Human. At first glance, this seemed like a jam-packed episode of Syfy's supernatural soap opera. But on further inspection, we're not sure if the copious side-boob and smoke-monster sessions actually put an interesting plot into this week's episode. But then again, there were copious side boob and smoke monsters.
Oh well, let's just enjoy some naked dimple-chin vamp hiney, and Josh whipping out his protective side. Spoilers ahead...
So after the all the gluttonous sex stuff from last week, Sally and Aidan had to deal with a full scale sex hangover. But nothing works better than the hair of the dog, don't it? So you guys know what that means, MORE SEX. As opposed to going cold turkey, Aidan and Sally decide to keep on keepin' on, in their dirty bits.
And what did we learn from this relapse? Nothing terribly interesting, as far as Aidan's world goes. More vampire politics — one of the attractive young white vampires Aidan sired has started diddling the Princess that Aidan was secretly in love with, yadda, yadda, yadda... he's still alive, and now Aidan is sleeping with the Princess (and feeding on her side-boob). The whole plot is just kind of... there.
I think I miss the Dutch. Fantasies of Shaker-style vampires dance-worshiping and making gorgeous furniture in the hills of Kentucky still haunt my dreams. Now they were something I hadn't seen before. Vampires in 1920s costumes talking about vampire politics and love, we've all been there (I believe True Blood did it best). However I will say this, everyone looks great. Aidan's sire looks great and Dichen Lachman is just absolutely delightful, beautiful and a wonderful actress. I just wish they would just give these fine folks something else to do beside fill a purse up with stakes and look for the orphan vampires. We've seen this. Ah well, Being Human is a clever show, and I can be patient with my favorite character's plot-lines for now. Especially when the other two are delivering so nicely.