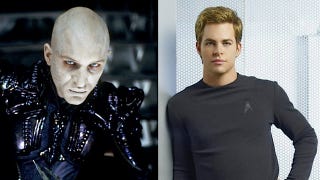 Today is Valentine's Day, a holiday which commemorates the armistice between global cacao manufacturers and the prophylactic industry after their centuries-long shadow war. To capitalize on this day of demure remembrance, the popcorn-industrial complex has released This Means War, a new motion picture event by director McG (Terminator Salvation, the music video for Sugar Ray's "Fly").
In This Means War, actors Chris Pine and Tom Hardy play two CIA wetworks operatives who fold the Constitution into a tiny origami water closet to woo Reese Witherspoon, who in turn plays a boringly attractive career woman.
On one hand, this is the first film to mine Americans' eroding civil liberties for a PG-13 romantic comedy. But with an open mind, This Means War becomes something else entirely — a stealth Star Trek sequel. Whether it's follow-up to Star Trek Nemesis or a stopgap Star Trek 2 is all up to you.
NOTE: Spoilers for the decade-old Star Trek Nemesis below, because we're assiduous and shit.
Before we begin, here's what I liked about This Means War, prima facie:
1.) Tom Hardy's character, despite his obvious British accent, is entrenched in the upper echelons of the CIA. This was a cozy throwback to Jean Claude Van Damme as Guile in Street Fighter.
2.) Hardy and Pine are charismatic actors trapped in a mediocre movie. It's not unlike watching a duo of handsome mice try to escape a Skinner Box programmed to open after 98 minutes, which is sort of novel.
Now, let's move on to the correct way to view this film. To start, why isn't This Means War covertly a team-up between, say, Bane and the male love interest from The Princess Diaries 2?
As I mentioned before, This Means War transforms the entire national security apparatus into a metaphorical extension of Hardy and Pine's dueling apparatuses. And when I say apparatuses, think flatworms.