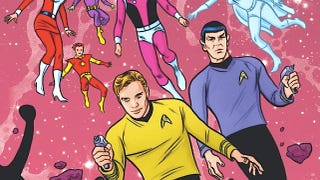 Happy Valentine's Day, kiddos! For those of you who hate this 24-hour celebration of doilies and copulation, rejoice in the fact that absolutely nothing Valentine-themed is hitting the comic book stands tomorrow! Yay! Let's see what's in store for your hungry eyes.
First Issues
A lot of stuff for horror fans this week. There's BPRD: Hell On Earth - The Long Death (which we talked with Mike Mignola about a wee while back) and a new Army of Darkness series from Dynamite.
Infestation 2: Dungeons & Dragons is out as well, so maybe Cthulhu and the Beholder will have a wriggling-appendage-off (which is basically a dance-off for abominations). Father-and-son team Stephen King and Joe Hill collaborate on Road Rage, a comic book tribute to Duel author Richard Matheson. Finally, Bluewater Productions has released the biocomic Female Force: Cher, which could qualify as horror depending how badly you were scarred by Believe.
Grab Bag
There are new issues of Star Wars: Dawn Of The Jedi, Batman, Fables, Wonder Woman (check out a preview here), Star Trek/Legion Of Super-Heroes (that Mike Allred cover above makes me happy in ways I cannot articulate), Infestation 2: Transformers (preview here), Daredevil, Uncanny X-Men, and Wolverine.