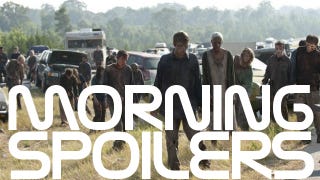 The Walking Dead isn't shy about killing off anybody, major characters very much included. Now one cast member hints that the larger story may spell their character's death... eventually, at least.
Plus Michael Keaton is ready to make his triumphant return as Beetlejuice!
Zachary Quinto talks up the Star Trek sequel's script, while Chris Pine praises new addition Benedict Cumberbatch.
The Evil Dead reboot adds another cast member, while Russell Crowe considers another iconic genre role.
Director Andrew Stanton reveals why John Carter is like a period film... for a time period that doesn't exist.
District 9 star Sharlto Copley is headed to Jupiter in the first photo from The Europa Report.
Plus why Abraham Lincoln: Vampire Hunter could actually have a sequel!
Spoilers from here on out!
Top image from The Walking Dead.
X-Men: First Class
Frequent Matthew Vaughn collaborator Jane Goldman, who did a rewrite on the first prequel and is expected to do the same for the second, discusses the possibility of characters like Cyclops or Jean Grey showing up, as well as how these films generally fit in with the original X-Men trilogy:
Ultimately, those decisions come down to someone other than me. Would I, personally? Well, it's really tricky. I think the route we had gone down with First Class - it's sort of a question of where to go next, and I think those two characters were very strong, especially having [Michael] Fassbender and [James] McAvoy play them so brilliantly. In a comic sense, I still think there's room for an X-Men [film] with the original X-Men [Laughs]. In terms of how they fit in this new universe that First Class kicked off, I don't know. I mean, yes, I think there's room for that. All sorts of ideas have been talked about and Matthew has some particular ideas, and, in this case, all of those decisions will be done through Matthew.

I think the style of the film really set it up apart from the other X-Men films, where it felt like a new universe.

I definitely think so, and I think that was Matthew's intention. I think there were moments where there was continuity with the other X-Men movie universe, and there were moments it was apart from that. I think it was the right way to go, for Matthew to make it a separate entity.
---
Star Trek 2
Spock actor Zachary Quinto discusses what production on the sequel has been like so far:
Getting back together with everybody was amazing. It was a little bit awkward because we've been away for four years, so for all of us to kind of find our footing again, just in relationship to shooting the movie [was a challenge]. But there's such a great connection between all of us that we were able to find our way pretty quickly.
He also gives some general thoughts on the script:
Well, it's bigger and bolder. And I think in some ways more dynamic. And it's so exciting to be back. And the first time there was a writer's strike when we were shooting the movie so nothing was able to be changed – the script was locked. And this time Bob [Orci] and Alex [Kurtzman] and Damon [Lindeloff] and J.J.[Abrams] are really getting in and working on the story and sort of allowing it to expand and evolve – and bringing us into the process. So there's a real collaboration that wasn't even legally permitted the first time that I feel really grateful for. We're having a really great time.
New Captain Kirk Chris Pine heaped some massive (and completely justified) praise on his newly cast costar, Sherlock's Benedict Cumberbatch:
"Benedict is fantastic. He's just so good. He's super talented, and we are more than grateful to have him on board. Benedict has got this intensity about him, and he's obviously extremely intelligent and articulate. His vocal quality is something else. He obviously is, unlike many of us, like, an actually trained actor [laughs]. He actually studied for it. [You'll love] everything. He's really talented. I think it's all going to be love - a mad amount of love."
Of course, Pine wouldn't actually reveal anything about who Cumberbatch is playing...because that would be telling, I guess. [MTV]
---
John Carter
Director Andrew Stanton explains the look and feel they were going for with their adaptation of Edgar Rice Burroughs's iconic series:
"The only way to do this was to make it feel like a period film...just a period you didn't know about. To make it feel like that I had to follow the rules of a real cultural history, as if there was some area of far-away South America, or the deep, deep Middle East that nobody knew about."
Star Taylor Kitsch explains the emotional heft required to play John Carter, and how the craziness of the Martian surroundings tests that:
"It's a character-driven epic adventure. It's quite heavy at times, but at the same time there's funny, situational humor. He's battling demons. He's been through the Civil War. He's seen his family involved with it...How does a guy, a guy who comes from a dark, intense place, how does he handle this?! It's funny but intense."
There's more at the link. [IGN]
---
The Europa Report
Here's a promo image of District 9 star Sharlto Copley in Sebastian Cordero's film, which follows six astronauts as they travel to Jupiter's moon Europa in search of extraterrestrial life. [ShockTillYouDrop]
---
Abraham Lincoln: Vampire Hunter
Here's a new promo image. [ShockTillYouDrop]
Seth Grahame-Smith, who wrote the original novel and co-wrote the screenplay, says there's some possibility of making a sequel:
"The short answer is yes, absolutely. If you read the book there's an epilogue that leaves things open to that. In the film, without giving anything away, we don't definitively end the origin story. We leave, not only a mentor story, but also possibly a Lincoln story open."
While I'm not sure quite what he's referring to with where the film leaves off, it should be noted that the book ends with Lincoln turned into a vampire by his friend and mentor, the vampire Henry Sturges, and standing in the shadows during Martin Luther King, Jr.'s "I Have A Dream" speech in 1963 at the Lincoln Memorial. So, the sequel may be some form of "vampire Lincoln in the swinging sixties." I would say that's the most ludicrous thing I've ever heard, but I'm just going to get proven wrong ten minutes from now anyway. [ScreenRant]
---
Evil Dead Reboot
Thumbsucker actor Lou Pucci has reportedly been cast as Eric, described as "an intense academic whose intellectual curiosity gets him and his friends into trouble." He joins the previously cast Jane Levy and Shiloh Fernandez. [Variety]
---
Iron Sky
Here are some more plot details from the Finnish comedy:
Finnish sci-fi spoof "Iron Sky" takes viewers on a wild ride to the dark side of the moon, where Nazis who survived World War Two have built a military base and are planning a "Meteorblitzkrieg" on planet Earth. Black U.S. astronaut James Washington, on a mission to boost the flagging electoral fortunes of a U.S. president clearly modeled on Sarah Palin, stumbles across the huge Swastika-shaped complex and is captured. His madcap adventures, set in 2018, see his skin turned white by an Albert Einstein lookalike, send him back to Earth where he is greeted as a lunatic and finally to the moon again to try to save the day, and his skin.
OK, I'm now kind of terrified of this movie. Still intrigued though. [Chicago Tribune]
---
Dark Shadows
Here is a poster showing Johnny Depp as Barnabas Collins. [ShockTillYouDrop]
---
Harker
Right, so here's the latest project Russell Crowe is attached to star in. Instead of Robocop or Noah of "Noah's Ark" fame, Crowe is reportedly in talks to play Dracula supporting character Jonathan Harker in this reimagining that makes Harker a Scotland Yard detective investigating the vampire's grisly murders — instead of his usual depiction as a lawyer. As Dracula characters go, you might think that Abraham Van Helsing would make way more sense to slide into this role than Harker, but you forget that Hugh Jackman already gave us the definitive take on that character, so we've got to go with Harker instead. [Vulture]
---
Warm Bodies
Despite recently releasing some promo images, Summit Entertainment has decided to push back the zombie romance from 50/50 writer-director Jonathan Levine from August 10 to February 1, 2013. If you're keeping score, this is the second movie starring X-Men: First Class actor Nicholas Hoult to get unceremoniously bounced to 2013 shortly after official images were released, following Bryan Singer's Jack the Giant Killer. So, if you see Nicholas Hoult around, be nice to him, OK? [ShockTillYouDrop]