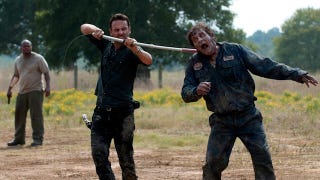 The Walking Dead returns tomorrow night in the wake of a moral dilemma: Should zombies be killed on sight, or quarantined as sick humans? We look at some of the issues surrounding zombie murder, and want to hear what you think about the ethics of killing these infection-spreading cannibals.
Image from AMCTV.com.
We open at the beginning of the zombie pandemic. There are rumblings of an infection on the news, of people who have turned suddenly violent and spreading disease through their bites. You look out the window and see a bloody-mouthed being shuffling in the distance. Maybe it's an undead creature. Maybe it's a live person infected with a horrible illness, à la 28 Days Later. Would you rush out to kill it? What would you need to know about the figure in order to decide it's okay to kill?
Since the CDC has already put out a pamphlet on zombie preparedness, we asked CDC spokesman David Daigle whether the government agency would ever recommend killing a zombie. The answer was a resolute no: