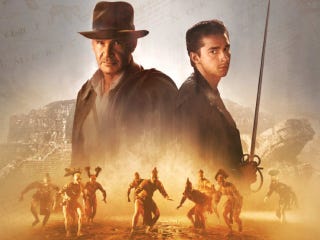 This month is like exhibit A for Hollywood's propensity to churn out sequels that nobody asked for. You've got Journey 2, opening today. And then next week, there's Ghost Rider 2, in which Nic Cage tries to "improve" upon the first flaming-skull motorcycle movie.
But it gets worse. There are plenty of sequels in the pipeline that would probably make Journey 2 and Ghost Rider 2 look like Henry IV Part 2. Here's our list of what's coming, and why it makes us want to stab ourselves in the faces.
Update: It's been pointed out that Ghost Rider: Spirit of Vengeance is not technically a sequel to Ghost Rider, despite both of them starring Nic Cage. Rather, this is a reimagining of the character, similar to the relationship between The Hulk and The Incredible Hulk.
Disclaimer: Of course, not all of these will get made. They're just in the pipeline, which could mean almost anything. We attempt to untangle the rumors and reports below.
Ghostbusters III
Current status: It's like a ghost stalemate. Basically, everybody who made the first two films wants to reunite except for Bill Murray, who has been very vocal about saying the script for the third movie is garbage. And by all accounts, Murray has veto power. Dan Aykroyd keeps insisting the sequel really will happen soon, though.
Stab stab ow: Well, Ghostbusters 2 was kind of a bummer already. And see the part where we explain that Murray has said this new sequel has a script so horrible, he had to put it in his shredder.