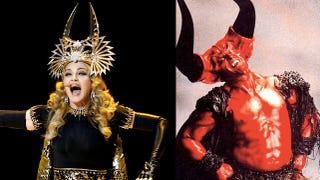 Sure, M.I.A.'s waggling middle finger caused a grand mal kerfuffle among the 37 Super Bowl viewers who were still sober enough to notice it. But far more insidious symbolism was at play during the 2012 halftime show. We are referring to, of course, the subliminal Satanic-Illuminati-Freemason messages that permeated Madonna's set.
What's that? You didn't see them? For shame! Well, fortunately for you, the internet is with teeming with eagle-eyed conspiracy theorists who can distinguish a covert Baphomet from your run-of-the-mill Rosicrucian sigil. Here are the underworld implications of Madge's song-and-dance number.
First off, here's the halftime show in case you missed it. Just to editorialize for a minute, last year's Black Eyed Peas performance was infinitely more hellish, but that halftime show was obviously in cahoots with the Antichrist's global technocalypse plot, which is a totally different thing. Also, fuck this year's show for no "La Isla Bonita." The only time a halftime show disappointed me more was when Prince eschewed "Erotic City."