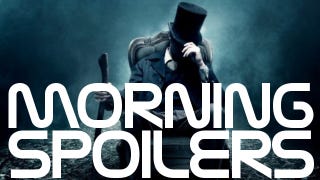 Check out our first proper look at Rufus Sewell as a vampire in Abraham Lincoln: Vampire Hunter, and find out why Lincoln hates vamps. A producer sets the record straight about Ridley Scott's Blade Runner follow-up. The Wolverine sets a release date. Karen Gillan discusses her Doctor Who departure. Plus the single most ridiculous Once Upon a Time casting update ever!
Spoilers ahead...
Blade Runner
Alcon Entertainment executive Andrew Kosove is denying the recent rumors that Harrison Ford is due to return in Ridley Scott's Blade Runner follow-up in just about the strongest possible terms:
"It is absolutely patently false that there has been any discussion about Harrison Ford being in Blade Runner. To be clear, what we are trying to do with Ridley now is go through the painstaking process of trying to break the back of the story, figure out the direction we're going to take the movie and find a writer to work on it. The casting of the movie could not be further from our minds at this moment."
As to whether Ford could even conceivably appear in the film, Kosove left the possibility open, but it doesn't sound like it's something they're seriously considering:
"It's like asking if we're going to make the sky red or blue, there has been no discussion about it. What Ridley does in Prometheus is a good template for what we're trying to do. He created something that has some association to the original Alien, but lives on its own as a standalone movie. In advance of knowing what we're going to do, I supposed you could say yes, he could. But I think it is quite unlikely."
[Deadline]
---
The Wolverine
Fox has announced a release date for the delayed, somewhat troubled but still generally promising new Wolverine movie: July 26, 2013. It's still believed that the movie, which is directed by 3:10 to Yuma's James Mangold, is a loose adaptation of Chris Claremont and Frank Miller's Japan-set 1982 comic miniseries. [Comic Book Resources]
---
John Carter
Here's a new TV spot.

---
Abraham Lincoln: Vampire Hunter
Star Benjamin Walker discusses the film's approach both to vampire lore and Abraham Lincoln's biography:
"It's not a sermon in any way, but it is interesting to look at vampires as the all-encompassing, unspeakable, unknowable evil. This evil moves among us, and maybe lives next door. It's an ideology that we don't fully understand, but they live by it... It's told through the structure of Lincoln's actual life. You not only see these huge fight scenes and great moments of drama, but you get sort of the greatest hits of Lincoln's life, from the mysterious death of his mother through the Gettysburg address. You get a portrait of this man, as well as a thriller."
The movie builds on Lincoln's real visits to Louisiana as a young man, where he saw the abuse and mistreatment of slaves and began to develop his own abolitionist sentiments. In this case, those Louisiana plantations also function as de facto livestock farms for vampires, who can feed on the slaves with impunity. There are more details at the link, and you can also check out the promo photos on the left, which includes a look at Rufus Sewell and Erin Wasson as Lincoln's vampire adversaries. [EW]
---
Riddick
Although his involvement was first announced as part of that massive infodump the other day, we now know a bit more about WWE wrestler turned actor Dave Bautista's involvement in the film. He will reportedly play a character named Diaz, and he will appear in "9/10ths of the film." [The Hollywood Reporter]