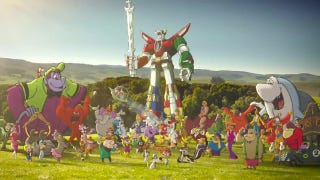 Last night, companies across America dumped millions of dollars into crafting the world's most perfect commercial. What did their millions dream up? Star Wars gags, Seinfeld, and the apocalypse. Here are the best (and the worst) scifi commercials from the Super Bowl.
Hulu Plus - Aliens
Will Arnett swaps in for Alec Baldwin in the new Hulu Plus. It's the same alien "we eat your brains" gags, but did Arnett pull it off?
Toyota Camry - It's Reinvented
Starts off soft, then plunges off the deep end with a revamped poop-free baby that's also a time machine.
The Chevy Apocalypse
This automotive apocalypse pissed off Ford so bad, they issued a statement.


VW Dog/Star Wars Cantina
The eternal battle of "commercials with puppies" vs. "commercials with Star Wars" jokes plays out in front of all of America. So, which one is it? The puppy or Little Vader? One thing is for certain, VW is quite good at selling Star Wars. Perhaps Lucas should of hired them to salvage the Phantom marketing disaster.