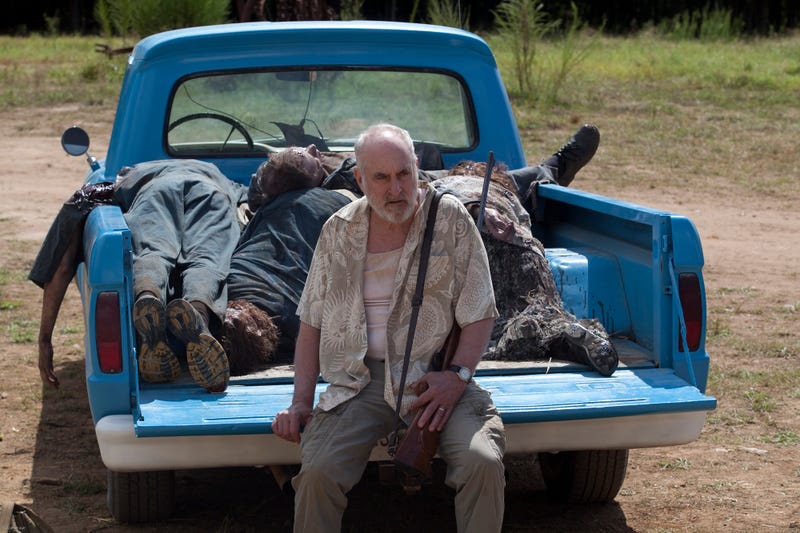 The Walking Dead comes back this week, and the show's creators are promising the fast-paced action you've been craving. But that's not all television has in store for you — there's also the series premiere of The River, a unique horror series from the creator of Paranormal Activity. Find out why we thought The River's first episode was the best pilot we've seen in ages.
But also, there are two new TV movies, in which Mark Sheppard plays Captain Nemo, and Jamie Kennedy plays the messenger of Cupid! And we meet Jake's Dad on Adventure Time. And much, much more. After the jump, there are brand new clips from Walking Dead, Vampire Diaries, Fringe, Adventure Time, Clone Wars, Alcatraz, Being Human, The River, Supernatural and the reunion of Mark Sheppard with his father, W. Morgan Sheppard. Television is your friend!
Today:
Adventure Time is back once again at 7:30 PM, on Cartoon Network. In "Dad's Dungeon,"
Jake's Dad appears in a holographic message with a mysterious challenge for Finn and Jake.
Here's a clip, featuring Jake's Dad! And that's followed at 8 PM by a brand new Regular Show, and a new Mad at 8:30.
Also at 8, there's a new House, in which House's unconventional methods are questioned. Shocking, I know.
And at 8:30 PM, Nicktoons has a brand new Supah Ninjas.
Then at 9 PM, there's a brand new Alcatraz on Fox, "Guy Hastings." And this time, the "returnee of the week" is a guard! Should be a piece of cake, right?
Guy Hastings, an Alcatraz guard, reappears. Although a good man, Hastings is being asked to do bad things and will come face-to-face with an old acquaintance.
Here's a sneak peek.
Also at 9 PM, there's another new episode of Being Human on Syfy, "(I Loathe You) For Sentimental Reasons."
Sally meets a kindred spirit; Josh runs with a new pack of wolves; Aidan is sucked back into his old life.
Syfy has a brand new (to Americans) episode of Lost Girl at 10 PM, "Faetal Attraction." There's absolutely no way that episode title could be misconstrued as something extremely icky, whatsoever. Nope. None at all. Anyway, here's what Syfy wants you to know about the preview clip at left:
Dyson investigates what happened to Olivia and asks if she was seen with the weapon or the head and Bo finds herself in the hot seat. He asks her why she brought them back to her place and she states that her last meal left her unsatisfied, speaking of her last encounter with Dyson. Tune-in to an all new episode of Lost Girl on Monday, February 6th @ 10/9c and watch as Bo faces the wrath of a fury scorned and deals with rejection from Dyson.
Also at 10, there's a brand new Castle on ABC.
Tuesday:
At 7:30 PM, Cartoon Network has a new episode of The Amazing World of Gumball, "The Car." That's followed at 8 PM by a brand new Level Up, "Wyatt Presents: Avatar in 3D." And then at 8:30 PM, there's the season finale of Looney Tunes Show.
And then at 9 PM, there's the two-hour premiere of The River, the "found footage" horror TV show by Paranormal Activity director Oren Peli. We reviewed the first of those two hours several months ago, and at the time we felt it was the best new TV pilot we'd seen in years. Here's how ABC describes the two-hour premiere: