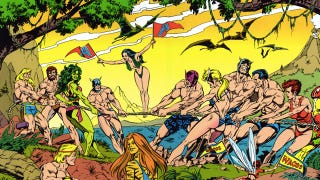 With The Avengers hitting theaters this summer, audiences are eagerly anticipating a chiseled parade of superhuman beefcake saving the world, not unlike if the Chippendales were conscripted as U.N. Peacekeepers. But did you know that Marvel Comics actually rated The Avengers according to hotness two decades ago?
It's true! In November 1989's Avengers West Coast Annual #4, writer Mark Gruenwald and artist Amanda Connor produced a short story titled "Rate the Hunks!" In this tale, Avengers heroines The Wasp and She-Hulk unsparingly ranked their male colleagues according to comeliness.
Given that "Rate the Hunks!" was penned 22 years ago, we here at io9 have contributed our own latter-day scores to represent modern ideals of masculine beauty. Welcome to one of the strangest back-up tales in superhero history.
Before we begin, here's Wasp's own explanation of her scoring system.
A "1" barely qualifies the guy for manhood, let alone hunkdom. Avoid them at all costs! EUUUWW! I'm talking about major league barf-bags like Attuma and Thanos! [...] And a "10" is a guy who's godly in hunkiness, someone you'd do anything — and I do mean anything for.
See, right off the bat, I take umbrage with these ratings. Thanos looks boss in a swimsuit, like a jacked California Raisin (and Adam Warlock's obviously hidden the Infinity Gauntlet in his swim-breeches). But enough of my bellyaching, here's the main show.
Thor: 2
Sure, Thor has the visage of Gunnar Nelson in his prime, the calves of a mastodon with gigantism, and the hat of a floral wire service. But as this Tumblr so aptly demonstrates, life with Thor would be like the three seashells scene from Demolition Man ad infinitum. And do you think Thor understands the intricacies of human courtship? In Asgard, foreplay requires a mighty wallow in the spoor of Ratatoskr the bore-toothed squirrel who dwells upon the world tree Yggdrasil.