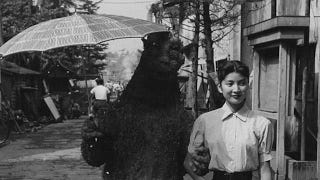 Fire up your keyboards, kids; it's time for another Concept Art Writing Prompt. This week's writing prompt features a familiar character: the one, the only Godzilla. Will your flash fiction piece star the famed Japanese monster? Or will you give this parasol-wielding lizard man an entirely different identity? Post your story in comments
Each Saturday, we're posting a piece of oddball artwork meant to enflame your imagination and get you writing. And each week, people post brilliant works of flash fiction in the comments. Join in and share your story!
This week's writing prompt may look a bit familiar as our own Cyriaque Lamar posted it earlier this week, from the Criterion Collection. But I couldn't resist. I want to see those Godzilla stories.