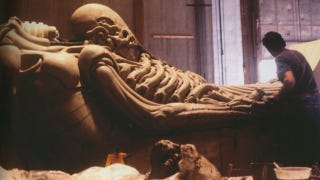 Now that we're all 100% certain that the Space Jockeys will be making a cameo in Ridley Scott's Alien prequel Prometheus, it's time to sit down and get the lonely space pilot's story straight. For example, are they elephant people or suits? How tall are they? What is their role in Prometheus ?
We rounded up every single quote, DVD commentary, concept art piece, and interview from the director and crew working on both Alien and Prometheus in hopes of uncovering this mysterious space race's true mission. Spoilers ahead...
What's In A Name?
The lonely sentinel was never officially titled the "Space Jockey." The nickname was attached to the beast during production on Alien. Scott has stated he has no idea who christened the creature. People needed something to call this creature, and somehow Space Jockey stuck (as you can see in this earlier storyboard). But the creature has also had a host of other names including The Pilot (Giger's original nickname for it), Pilots, James Cameron called it the "Big Dental Patient," and later on on Mala'kaks. Their "scientific" name is "'Mundus gubernavi" (Universal Pilot).
The First Victims
The Jockies are presumably the very first victims of the Xenomorph species (that we know of). Responding to a possible distress call, the crew of the Nostromo lands on the Moon LV-426 and enters a downed space craft. What they find is the giant Jockey, its chest hollowed out by what the audience can only assume is a xenomorph.
From Where Did The Space Jockey Originate?
The look, feel, and presence of this lounging corpse was completely inspired by the work of Swiss artist H.R. Giger. In fact, it was Giger's haunting artwork that catalyzed screenwriters Dan O'Bannon and Ronald Shusett's Starbeast movie pitch, which O'Bannon would later rename Alien.
O'Bannon wanted to bring the terrifying creatures from the artist's dark world to life. In 1977, while Scott was developing O'Bannon's screenplay, Giger published the art book Necronomicon. Scott loved Giger's work on the piece "Necronom V" so much that he asked Giger to develop an alien pilot based off the creature riding the larger alien. And as you can see, not too much changed design wise from Giger's mind to the screen.
A Suit Or An Elephant?
The latest Prometheus still image — which we've lightened considerably to illuminate more Space Jockey goodness — shows off actress Noomi Rapace (as the character Elizabeth Shaw) wandering down a dark hallway. In the background stands two upright Space Jockeys, thus reinforcing the belief that these beings are more biosuit than actual creature. And this recent interview with Filmophilia, Scott verifies that they are, in fact, suits.
[Prometheus] does actually raise all kinds of other questions, because if someone could, a being, could be as monstrously clever to create something like we experienced in the very first one [ie. the Alien xenomorph] – I always figured it's a weapon, and I always figured that [the ship in the first Alien] was a carrier of weapons. Therefore, who is that, inside that [Space Jockey] suit? That wasn't a skeleton, that was a suit. And if you open up the suit, what do you get inside it? And why were they going, where were they going?"
(via ScreenRant)
What Does the REAL Space Jockey Look Like?
Now that we've verified that the giant elephant face creature is actually a suit, what does the real Space Jockey look like? Well, we think we spotted it inside the first ever Prometheus trailer. Check out the creature looming to the right of this screengrab. He's big enough to fit inside that suit. Plus he's wearing an entirely different outfit from the rest of the cast. Could this be the real Space Jockey?