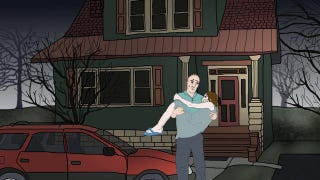 You think The Road was bleak? You found Zone One kind of dark and relentless? Bah. The latest literary apocalypse, Ben Marcus' The Flame Alphabet, is weirder, more disturbing and harder to deal with than any of your other literary calamities.
The Flame Alphabet may not be the most violent apocalypse, but it is quite possibly the most disturbing and baffling of them all. Here's why you can't handle this book. Spoilers ahead...
I read The Flame Alphabet a few days ago, and while I was reading it, I was trying to explain the plot to random people I met, many of whom indicated vigorously that they'd rather I didn't. And now that it's been a few days since I read it, I find myself at a loss to explain anything about this book at all. It's become kind of a nightmarish blur.
But here goes: In Flame Alphabet, there's some kind of weird plague which causes the sound of language to hurt adults. At first, it's just the sound of children talking that makes grown-ups get sick. But eventually, the disease progresses, and even adult speech can make other adults feel unbearable pain and waste away. People's faces shrink to the size of dolls, and their tongues develop a weird rough growth on the underside, making speech painful. Eventually, even communicating via facial expressions becomes unbearable, and the world goes totally mute except for a few enclaves where the children are sequestered.
Yes, if language is a virus like William Burroughs always claimed, then Flame Alphabet is about what happens when it mutates into something toxic and potentially deadly. At left is the book's trailer, which we debuted on io9 a while back.