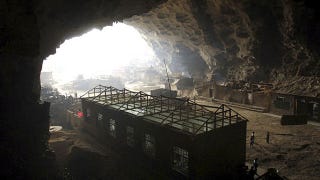 You don't need to be an eccentric billionaire or rugged survivalist to take up residence in a cave. All around the globe, living in an rocky recess is just a fact of life and can be way more homey than any manmade structure. Here are some real estate destinations to investigate should you attempt to cultivate that post-modern caveman chic.
France's No Wi-Fi Cavern
You may have heard of those folks who are fleeing to West Virginia to escape headaches they claim are caused by Wi-Fi signals. Well, a duo of electromagnetically hypersensitive French women have upped the ante and moved into a cave dwelling outside of Beaumugne, France.