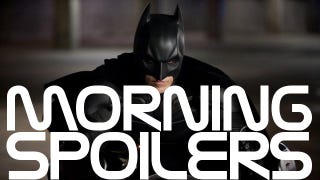 Joss Whedon reveals the greatest challenge of writing The Avengers — and some new toys give our first look at an important vehicle. Do we know the fate of a major Walking Dead character? The Crow reboot rises from the dead. Plus literally everything you need to know about Chuck's series finale!
Spoilers from here on out!
Top image from The Dark Knight Rises.
The Dark Knight Rises
Liam Neeson came as close as he's probably ever going to get to confirming that, yes, he's back as Ra's al Ghul in the third Batman movie:
"I can tell you nothing about Dark Knight Rises, seriously. I was on set for maybe an hour-and-a-half and the director didn't tell me anything of what it's about. So, I'm being very honest when I say I have no idea what's going to happen."
It's certainly possible that Neeson is simply describing a visit to the set that had nothing to do with filming a part - that sort of thing is known to happen - but OK, yeah, it does look like Neeson has a cameo in the film. And probably a very brief cameo at that, assuming the "I was only there for ninety minutes" thing is accurate. [Showbiz Spy]
Christian Bale discusses his approach to the role, citing the portrayal of Batman in Frank Miller and David Mazzuchelli's 1987 miniseries Year One:
"Suddenly, I found Batman has so many issues, he's not a healthy individual, this is somebody that is doing good, but he's right on the verge of doing bad. He's got that killer within him that he's desperately trying not to let off his leash. And that's what I always return to."
---
The Avengers
Director Joss Whedon reveals the biggest challenges in writing the screenplay:
"It was an up-all-month job. Finding the characters' voices was not only easy, but glorious fun — it doesn't suck to write Tony Stark — yet finding the structure was just brutal. I haven't had that much trouble making a screenplay work since Serenity, and embarrassingly, for the exact same reason: there's just too many characters."
There's some more at the link. [Comic Book Movie]
Here's the latest subtle variation on what Tom Hiddleston has been saying about Loki for the last few months:
"He knows who he is now, and what his powers are. In order for The Avengers to come together, Loki has to be more menacing, and all of his malevolence is founded in a completely delusional dream."
[IGN]
Here's a rather low-res look at some of the tie-in toys, including our first proper looks at the movie's take on the Quinjet and the Helicarrier. [Marvelous News]
---
Ghost Rider: Spirit of Vengeance
Here's a behind-the-scenes featurette.

---
The Hunger Games
The movie has launched another in-universe tie-in website, capitolcouture.pn, that's mostly focused on Elizabeth Banks's fashion-conscious Tribute chaperone Effie Trinket. (The .pn domain is a reference to the movie's setting, the country of Panem, which is a huge boon for the Pitcairn Islands.) Here are some excerpts from the website's profile on Trinket:
With a keen eye towards cutting edge trends and a willingness to break boundaries, Capitol-born style icon and District 12 Escort Effie Trinket has been a fashion pioneer since her very first Hunger Games. She has been known to take the iconic building blocks of contemporary Capitol fashion such as sleeves, hairpieces and bold colors and craft stunning looks that go on to influence all of Panem's fashion-forward citizens. Whether she is chauffeuring her latest Tributes or walking the boulevards of the Capitol, Effie maintains an exquisite profile that demonstrates her spirit and the pride she takes in her work...

Who knows? Maybe Katniss Everdeen volunteered for this year's Games just to bask in the glow of such an inspirational fashionista. After all, that girl Katniss may have charisma, but a little style never hurt anyone.
There's some more stuff along those lines at the link. [Capitol Couture]
---
John Carter
Here are two promo photos of Mark Strong as Matai Shang, the ruler of the Therns, and Dominic West as Sab Than, the ruler of Zodanga. [Comic Book Movie]
Ayelet Waldman, novelist and wife of screenwriter Michael Chabon, tweeted this totally unbiased early review:
Just saw John Carter. It was AWESOME. Seriously. Best action movie I've seen ... maybe ever? Lush and gorgeous. Great love story. FAB!!!!
[@ayeletw]
---
Chronicle
Here's another TV spot for the found footage superhero movie. [Coming Soon]

---
Journey 2: The Mysterious Island
Here's a bunch of TV spots for the upcoming sequel to Journey to the Center of the Earth.

---
World's End
Edgar Wright tweeted a photo of him and Simon Pegg apparently beginning work on writing the post-apocalyptic third movie in their unofficial Blood & Ice Cream Trilogy that began with Shaun of the Dead and Hot Fuzz. [First Showing]
---
Evil Dead Reboot
Mirror, Mirror star Lily Collins has reportedly left the Evil Dead remake, for which she was originally cast in the lead role. She reportedly departed due to scheduling concerns. [/Film]
---
The Crow Reboot
In news that I'm sure you were all dying to hear (pun semi-intended), Relativity Media and the Weinstein Company have settled their lawsuit that was holding up production on this new version of The Crow, which was at one point going to star Bradley Cooper in the title role, because of course it was. Cooper has since dropped out, but there's now plenty of time to find another wildly inappropriate Hollywood star to take on the main role. [Coming Soon]
---
Terminator 3000
Just in case anyone was wondering, Hannover House says they don't have the rights to make their proposed animated Terminator movie - though they would like to get them if Megan Ellison's Annapurna Films would be agreeable - and Arnold Schwarzenegger isn't currently involved in any capacity. [PR Newswire]