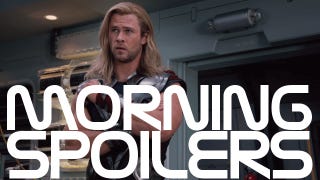 The head of Marvel Studios debunks two of the biggest Avengers casting rumors, while an unexpected source promises the craziest cameo yet. Plus Man of Steel adds a vital character from Superman mythos, and there are more details on the new show from Doctor Who's Russell T. Davies.
Spoilers from here on out!
Top image from The Avengers.
The Avengers
Empire Magazine's latest preview of the film features some key quotes from Marvel Studios president Kevin Feige, in which he says Loki's mysterious army is not the alien Skrulls, as everyone had just sort of assumed:
"Who said they were aliens?...It's not Skrulls, I've been clear about that. Beyond that, we want to hide it. The identity of the alien race is not impactful. It exists in the comic books, but we're not setting up the Kree-Skrull war or anything like that."
When asked if the aliens were from the Nine Realms, Feige said this was "closer." He also took the time to debunk the toy-based rumors that the Red Skull was the secret second villain:
"Was Skull vaporised at the end of the movie, or thrust into another realm? That remains to be seen. It would be fun to see Skull in future, but he's not in this one."
Here are a few scans from the Empire article, including three images from the movie itself. [Coming Soon]
American Werewolf in London and Logan's Run actress Jenny Agutter confirmed in an interview with The Radio Times that she has a role in the film. She wouldn't reveal anything more, except for the seemingly earth-shattering detail that two of the on-set Winnebagos belonged to Iron Man... and Spider-Man. Of course, if true, that second bit would be an absolutely massive shock, what with Marvel Studios not even owning the moving rights to Spider-Man. Which is really another way of saying that, no, there's pretty much no way that this is true, and that this is almost certainly just a result of some sort of miscommunication between Agutter and The Radio Times. [Bleeding Cool]
---
Man of Steel
13-year-old actress Jadin Gould, whose previous credits include Battle: Los Angeles and Chuck, has reportedly been cast a young version of Lana Lang, presumably alongside the previously reported Dylan Sprayberry as a 13-year-old Clark Kent. It's not currently known whether there will be a grown-up version of Lana Lang, although I suppose I should point out that role has been the center of a lot of those ludicrous Lindsay Lohan casting rumors. [Superman Supersite]
---
Ghost Rider: Spirit of Vengeance
Co-directors Mark Neveldine and Brian Taylor make it clear that this movie isn't really a sequel to the original Ghost Rider, other than the continued presence of one Nicolas Cage, master thespian:
Neveldine: I didn't see the first one.
Taylor: That's pretty much the answer to your question — it doesn't really relate at all.! It's not really a sequel. It's more like a reboot. It stands on its own, except that it still has Nic, so it's kind of like a prequel.
They also claimed that the already infamous moment where Ghost Rider pees fire is really Nicholas Cage peeing fire:
Neveldine: [Laughs] Well, the great thing was that Nic can really pee fire, you just need a lighter.
Taylor: So it was low budget filmmaking. We take advantage of things that actors can really do.
There's more at the link, including their belief that this is a "hot, sweaty kind of movie" and lots of praise for costars Idris Elba and Johnny Whitworth. [Comic Book Resources]
---
Prometheus


Here's an international poster that shows just a little bit more of the giant head seen in previous posters. [Coming Soon]
---
Total Recall
Director Len Wiseman says his reboot will be more "cerebral" than the Arnold Schwarzenegger original:
"I love the original. It exists in a tone that works in that era. It's a bit more of a serious tone, still a hell of a lot of fun though. But it's a bit more into the cerebral dilemma that Quaid finds himself faced with. I always loved the idea of Recall itself does. Whether it takes you to Mars or a tropical island or a different section of a futuristic earth. It's more about the dilemma that sets up. In the Philip K. Dick story he never physically goes to Mars. It's a choose your own adventure book in your mind. So this chooses a different adventure because we've all seen that one and we already love it. That concept of Recall allows you to do any experience. I thought it would be great to do another experience of that."
He also says at least a few iconic moments from the original - the examples thrown out by the interview included Johnny Cab and the various characters found on Mars - will also show up in this one:
"Some of them [the moments] are. I couldn't do this film without having some of those. As a fan of the original I would be disappointed if there weren't a few things in there. But I never like to copy moments, so there are shifts in perspectives on some of those. I don't step on the ones from the original, but I have fun acknowledging that we all love some of those moments. As I do."
There's more at the link. [Bloody Disgusting]
---
Chronicle
Here's a TV spot for the upcoming found footage movie about three teenage boys who develop superpowers.

---
Snow Piercer
Legendary and omnipresent actor John Hurt has revealed that among his 500 upcoming projects (I'm estimating) is a role in The Host director Bong Joon-ho's adaptation of the French graphic novel Le Transperceneige, which finds Earth in the middle of a new Ice Age and the remnants of humanity huddled on a snowbound train. Hurt joins the previously cast Chris Evans, Tilda Swinton, and Jamie Bell. [The Telegraph]
---
The Host
Two more actors have reportedly joined Gattaca and In Time director Andrew Niccol's adaptation of Stephenie Meyer's non-Twilight book in which the last of humanity fights back against parasitic aliens. 13-year-old actor Chandler Canterbury, who has previously appeared in The Curious Case of Benjamin Button and the Nicolas Cage vs. Armageddon film Knowing, will reportedly play the younger brother of star Saoirse Ronan's young alien-fighting revolutionary. Boyd Holbrook, whose credits include Milk and Higher Ground, will reportedly play Ronan's macho older brother. [Variety]
---
11/22/63
We heard a while back that Jonathan Demme, the acclaimed director of such films as Silence of the Lambs and Rachel Getting Married, had optioned the film rights for Stephen King's novel about time travel and the John F. Kennedy assassination. Now Demme has given an update on where the project stands, for which he's currently writing the screenplay: