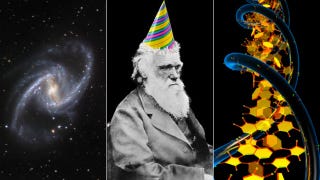 Have you ever felt like getting some people together and toasting something in the name of science? If you have, then you may have already noticed that of the eleven federally recognized U.S. holidays, not a one of them has anything to do with science.
There are, of course, many unofficial days of observance throughout the year, but how many science-themed examples can you really name off the top of your head, save the obvious Earth day and Arbor Day? Let us help you out — here are 10 scientific holidays to look forward to in 2012 and beyond.
---
10) Yuri's Night: April 12, 2012
Yuri Gagarin was a soviet pilot, cosmonaut, and the first person in history to venture into outer space. In recognition of his bad-assery, people the world over congregate every year on April 12th to commemorate his flight in the Vostok 1 spaceship (April 12, 1961), the first Space Shuttle flight (April 12, 1981), and to promote the future of space exploration. [Image via]
Last year marked the 50th anniversary of Gagarin's voyage to outer space, but people have been celebrating every year since 2001, and there's no sign of them letting up in the future. Yuri's Night Space Parties are held every year in cities and towns all over the world (the photo featured here was captured at the Yuri's Night Bay Area 2010, held at NASA Ames Research Center in California). Head over to the main Yuri's Night webpage to keep up-to-date on where to find a local celebration as the date approaches. [Photo by Matthew Reyes]
9) Pi Day: March 14, 2012
The mathematical constant pi (or π) represents the relationship between a circle's diameter and its circumference. Most people know pi from equations like A = πr2, which is used to calculate the area of a circle, but even beyond widely-known area and volume equations, pi is one of the most useful and commonly used constants in all of mathematics.
While pi has been calculated to over 10 trillion digits past its decimal point, it is typically just approximated as 3.14, which is why pi day is celebrated every year by maths buffs the the world over on the fourteenth day of March, the third month of the year (fun fact: pi day also happens to be Albert Einstein's birthday). You can celebrate this year by kicking back with a slice of pie, listening to some pi-inspired tunes, and getting your needlework on. Learn more on the official pi day website.