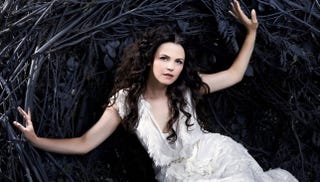 After decades out of the limelight, suddenly Snow White is everywhere. What woke this particular tale out of its coma?
When we think of fairy tales, Snow White — despite her place of honor as the original Disney princess — isn't the immediate go-to. Sure, she got a starring role in Fables — but she was conflated with an entirely different Snow White, the one with a sister named Rose Red. We refer to a "Cinderella" story, and it's far more common to see casual references to that other slumbering heroine, the often-racy Sleeping Beauty. Even Beauty gained new life when her story was transformed from veiled discussion of arranged marriage into a lesson about inner worth.
But suddenly, this less-popular princess is popping up everywhere. She's the primary magical protagonist of Once Upon A Time, though she shares top billing with her daughter. And that's just a preview of coming attractions: This spring, not one but two big-budget Hollywood adaptations will grace your local multiplex. All of these projects have attracted major names and, from the looks of it, some serious financial backing. 
Granted, these are part of a bigger burst of fairy tale adaptations. And yet, we're not seeing much of Cinderella, and the Sleeping Beauty project attempting to get off the ground is focused on Maleficent, the villain. So why Snow White?