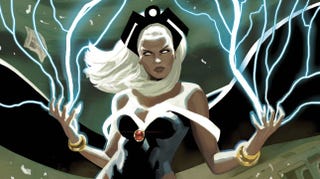 In this week's comics, Grant Morrison puts him imprimatur on The Avengers, but not the ones you expect. On a similar albeit unrelated note, Brian Michael Bendis is also writing Marvel's Avengers (above), wherein Storm joins the team. Let's see what else is on the shelves Wednesday.
First Issues
First off, Boom is republishing Grant Morrison's 1990s take on John Steed and Emma Peel in the reprinted miniseries Steed and Mrs. Peel. I've never read this before, but I can imagine it's early Morrison doing his highfalutin weirdness thing with 1960s espionage. Could be worth a peek.
There's also the debut of Kirby: Genesis - Dragonsbane, a Norse superhero who's part of Dynamite's Kirbyverse. Dynamite is also releasing a new Tarzan series, Lord of the Jungle, and IDW kicks off a new Danger Girl series, Revolver. Finally, Marvel's releasing a new Spartan-friendly Halo comic, Fall Of Reach: Invasion.
Grab Bag
This week you can anticipate new issues of Scott Snyder's Batman, Brian Azzarello's Wonder Woman (preview here), Fables, Memorial (preview here), Daredevil (which we've really been enjoying), Invincible Iron Man, Uncanny X-Force, and Uncanny X-Men.