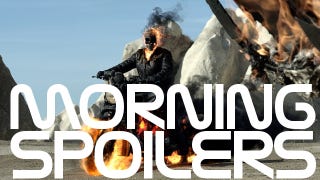 Nicolas Cage's research for Ghost Rider: Spirit of Vengeance prominently involved insects and ancient Egyptian dance. Benedict Cumberbatch discusses his involvement in the Star Trek sequel. Plus director Rian Johnson addresses the biggest challenge of his time travel epic Looper!
All that plus Don Cheadle talks Iron Man 3, Chris Evans boards a post-apocalyptic train, the first official plot description of the Total Recall reboot is released, Benjamin Walker reveals the secrets of how Abraham Lincoln hunts vampires, Doctor Who adds a writer, Fringe has a big kiss coming up, the Chuck finale goes right back to the beginning, and much more!
Spoilers from here on out!
Top image from Ghost Rider: Spirit of Vengeance.
Ghost Rider: Spirit of Vengeance
Co-director Brian Taylor explains how he, partner Mark Neveldine, and star Nicolas Cage created the dual role of Johnny Blaze and Ghost Rider, and it's pretty much everything you would expect of Nicolas Cage at peak insanity. Here's the quote — I've bolded the parts that are particularly awesome:
"We thought it would be fascinating and a lot of fun to have Nic approach this dual role and create a completely new persona for this creature. Nic took it on as a creative creature challenge. He did a lot of research and had a lot of nightmares, and really went deep into what his version of that demon would be. He was coming at us with some really crazy stuff, like ancient Egyptian ceremonial dances, and we wanted him to study insects, and the way that they move. Some of the things that we came up with are so leftfield that we almost didn't think they'd make the movie, but we ended up putting them in. As a character the Rider is constantly keeping you balance and doing odd little that you don't expect — as much as he's burning people alive, it's almost more about psychological warfare."
Basically, if this film isn't better than Casablanca, I'll be shocked. Anyway, my sky-high yet completely reasonable expectations aside, Taylor revealed how he and Neveldine made the movie awesomely violent while keeping the studio-friendly PG-13 intact:
"The good news for us is that he's the kind of character where we can let him be just as gnarly as he wants to be and we don't really run into trouble," laughs Taylor. "Here's a little bit of advice for young filmmakers who are trying to make a PG-13 movie that's super violent. You can burn as many people as you want. It's not a problem. Where you run into problems is if you're slicing people's arms and heads off, but you can burn hundreds of people alive and they don't have a problem with it!"
And, last but oh so definitely not least, Taylor explains what is pretty much the apotheosis of Ghost Rider: Spirit of Vengeance - that part in the trailer where Ghost Rider pisses fire: