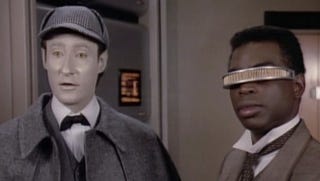 Many works of science fiction agree that we'll all be reading Shakespeare until the heat death of the universe. But what about the works of Isaac Asimov, George Lucas, JK Rowling, and Steven Moffat? What, if any, cultural legacy will we leave to people the who come after us, and will we like the way that legacy looks?
One of our favorite books of 2011 was Ernest Cline's Ready Player One, a work of speculative fiction that's as much about the future of popular culture as it is about the future of technology. It's fun to imagine that future generations will appreciate Star Wars and Back to the Future as readily as we do today, but is that realistic? How might our popular culture — our books, our television, our movies, our music — make its way into the hands of future fans?
Scenario #1: Schoolteachers will decide. The culture tastes of the crew of Star Trek: The Next Generation's Enterprise is famously highbrow, almost to the point of stodginess. Picard may have a fondness for detective pulps, but he's more likely to be found spouting Shakespeare or playing Mozart. Lieutenant Barclay and Dr. Crusher stage Cyrano de Bergerac. Commander Riker woos the ladies with his jazz trombone. When Q casts the crew in his private production of Robin Hood, even Worf (whom you'd think would be more familiar with Russian literature than English) has enough familiarity with the tale to quip, "I am not a Merry Man."
So why does the crew of the Enterprise reenact Charles Dickens but not JRR Tolkien? Well, putting aside the TV writers' practical concerns about airing public domain works with which a large segment of their audience will be familiar, there is the fact that all commissioned officers have to go through Starfleet Academy. And Starfleet Academy offers students a fairly classical education, even by 21st Century standards. (They still offer Latin, when Klingon, Cardassian, and Romulan seem far more practical.)
Of course, if we do end up in a future where teachers and academics are the ones who distribute pop culture to the masses, chances are it won't look like what we see in TNG. For one thing, in an increasingly global era, it seems unlikely that the lessons will be so overwhelmingly Western. For another, the tastes and goals of teachers will probably change over time. For all we know, future generations will find more resonance Harlan Ellison or Frank Herbert than George Orwell. And I'd hope that even the most traditional educator would teach a wider range of media than the instructors at Starfleet Academy; in the 24th Century, only the most die-hard aficionados of 20th Century culture are familiar with that antiquated cultural receptacle known as the television. Maybe it's cultural vanity, but I'd like to think that some of this era's movies and TV shows will be found worthy of future study.
Scenario #2: Powerful individuals will decide what culture survives. The genius of Ready Player One is that reclusive genius James Halliday, who had so much trouble connecting with other people, was able to bequeath his geeky obsessions to an entire generation. Halliday offers a multitrillion-dollar prize to the first person who finds the Easter egg hidden in his giant virtual reality simulation OASIS, but winning the game requires intimate knowledge of all of the 1980s pop culture that Halliday adored. This drives a resurgence of eighties culture, at first because the largely poverty-stricken populace wants to win Halliday's fortune, but then also because many kids in 2044 genuinely connect with the stories with plucky child heroes and unbelievable artifacts of power.
It's an extreme portrayal of popular culture wrenched into the forefront at the whim of an individual, but it's not hard to imagine a world where a person or handful of people use their power to influence or even control popular culture. Consider Ray Bradbury's Fahrenheit 451, where no one is allowed their own private island of culture in the form of a book and instead have to watch the vapid dramas beamed onto their parlor walls. And there are plenty of real-life examples to draw from, such as Kirsan Ilyumzhinov, the former President of the Republic of Kalmykia, who is so obsessed with chess that he made it a required class for school children and had the opulent Chess City complex built in the impoverished steppe region. And, as we mentioned a few weeks ago, the late Kim Jong-Il loved kaiju movies so much that he kidnapped South Korean director Shin Sang-Ok and forced him to make the monster movie Pulgasari. So, if you want your favorite piece of artwork to survive, make sure your kid loves it, too, while instilling her with a firm sense of megalomania.