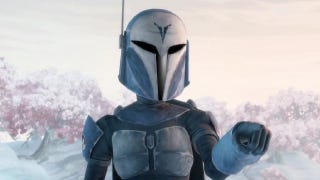 This week brings the most awaited episode in store for season four of Star Wars: The Clone Wars, a brief analysis of the Brony phenomenon along with a Bronified take on Watchmen, and the finale of Marvel Anime: X-Men! We've got a lot of ground to cover – minor spoilers ahead!
Star Wars: The Clone Wars – "A Friend in Need"

Dave Filoni steps back into the director's chair for this episode of Clone Wars, an episode featuring Katee Sackhoff as the first in-continuity female Mandalorian! Previewed at this past San Diego ComicCon, the episode starts off with the return of Lex Bonteri, who pronounces his belief that Count Dooku murdered his mother.