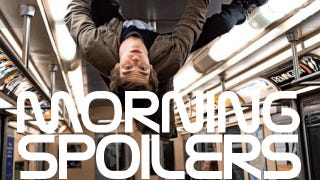 The next season of True Blood may reveal the origins of a fan favorite character. The newly cast Richard Schiff talks playing Dr. Hamilton in Man of Steel. Plus new images for Amazing Spider-Man, Hunger Games, and much more!
It's spoilers all the way down!
Top image from The Amazing Spider-Man.
Man of Steel
West Wing actor Richard Schiff confirms he has been cast as Dr. Hamilton. While he won't confirm the character is the same Professor Emil Hamilton we saw in the comics, he does say the character is a scientist whose first name is Emil, so really he might as well be. Schiff also won't confirm whether this incarnation of Hamilton will be friend or foe to Superman. He also says he has scenes with Amy Adams, Christopher Meloni, and Henry Cavill. He has filmed some scenes but the bulk of his filming will be over the next few weeks in Vancouver. Check out the link for more. [I Am Rogue]
---
The Avengers
Director Joss Whedon explains that he used Steve Rogers as a sort of audience identification figure in the movie:
"I set out with a very simple problem: There is no reason for these people to be in the same movie. So that's what my movie has to be about. So much of the movie takes place from Steve Rogers' perspective, since he's the guy who just woke up and sees this weird ass world. Everyone else has been living in it."
Here's Tom Hiddleston's latest take on how Loki has changed from Thor to The Avengers:
"[He's changed] entirely. Well, not entirely. We haven't thrown out the baby with the bathwater. We've retained the kernel of his origins. He's a damaged, troubled soul who doesn't feel like he has a place in the universe — certainly, a terrible and complex animosity toward his brother, Thor, and towards his surrogate family, Odin and all of Asgard. Loki is someone in 'The Avengers' is someone who's evolved from that. He's fully self-possessed in his mischief-making and self-aware and I think much more menacing."
---
The Amazing Spider-Man
Entertainment Weekly's latest preview features this image of Andrew Garfield as an unmasked Spider-Man. The article also features this quote from director Marc Webb, in which he explains what sets this movie apart from the Sam Raimi films:
"Ultimately what this movie is about is a kid who grows up looking for his father and finds himself. And that's a Spider-Man story we haven't seen before."
---
The Hunger Games
Here's a new image of Elizabeth Banks as Effie Trinket from the movie's viral website. [Coming Soon]
---
Ender's Game
The father of young actor Suraj Parthasarathy, who plays Alai in the movie, reportedly let slip that this is planned as a series of more than one film. That's not exactly surprising, considering there are multiple books in Orson Scott Card's series to adapt, and everything is planned as a series of films these days, but it's still good to know. [Thanks to Rob for the tip!]
With filming due to begin shortly in New Orleans, the production team is reportedly looking for "bright and talented kids and teens ages 10-17 of varying ethnic background" from the area to work as extras. [NOLA]
---
The Hobbit
Richard Armitage discusses the experience of playing his character, the dwarven leader Thorin Oakenshield. The quote includes a spoiler about Thorin's fate that shows Peter Jackson isn't changing the character's story from J.R.R. Tolkien's book:
"I think this is one of those characters that always stay with you because you spend so much time with him and it's such a transformation I'm in the character every day, and I've become so familiar with him. I sort of know how he thinks. I feel really close to the character, and he will continue beyond this job, even though, he dies at the end of the movie. I think he is a fascinating character. I will probably wake up in six years' time and be inspired to think about him again. It's really exciting."
Armitage also discussed the makeup process:
We all started with quite an extreme version of ourselves. I think because my character does spend a lot of time onscreen and you really have to understand what he's going through emotionally, it became clear that if we started make the prosthetic as close to my features as possible but still make him a dwarf, it would be much easier to read the character. He has to go on such a journey, it was really important to do that. I grew my own beard after the first block because I felt that it was restricting my face. The jaw is so connected to emotion that I wanted to have that free. It made such a huge difference.
[MTV]
---
Chronicle
Here's a new teaser trailer for the found footage superhero movie:

---
Robopocalypse
Steven Spielberg discusses his next project, an adaptation of Daniel H. Wilson's book:
"It's a movie about a global war between man and machine. I had a great time creating the future on Minority Report, and it's a future that is coming true faster than any of us thought it would. 'Robopocalypse' takes place in 15 or 20 years, so it'll be another future we can relate to. It's about the consequences of creating technologies which make our lives easier, and what happens when that technology becomes smarter than we are. It's not the newest theme, it's been done throughout science fiction, but it's a theme that becomes more relevant every year."
[Time Out]
Spielberg talks a bit more about the movie elsewhere:
And I'm making a science fiction movie probably in September called Robopocalypse based on Daniel Wilson's book. It's a cautionary tale about war between human beings and robots. It's a big crowd pleaser, I think, a big action popcorn movie with a message. The message is actually in the popcorn! You have to get the popcorn, dig down deep in the bottom and there'll be a message about what Robopocalypse is really about!
I'm going to go out on a limb and say he might be joking about that last part. [Collider]
---
Abraham Lincoln: Vampire Hunter
Here's a new promo image from Entertainment Weekly of Benjamin Walker as Abraham Lincoln. [Comic Book Movie]
---
Dark Shadows
Here's the next Entertainment Weekly promo image, this time of Johnny Depp as Barnabas Collins and Michelle Pfeiffer as Elizabeth Collins Stoddard. [Johnny Depp Italia]
Director Tim Burton explains how he approached adapting a show with over 1,200 episodes of source material:
It's got such a strange vibe. And it's not something that a lot of people necessarily know. You're trying to do a weird soap opera. I felt really lucky, because the cast is really good. People like Michelle [Pfeiffer] grew up watching it. Some of the cast knew about it. Some didn't, but they were all game for it - getting into the weird spirit of what "Dark Shadows" was. It has a weird sense of heightened melodrama. There was a generation of us who would run home from school to watch it. That's probably why we were such bad students. We should have been doing homework; we were watching "Dark Shadows" instead. It was hard to put into words the tone it was. It had a weird seriousness, but it was funny in a way that wasn't really funny. We just had to feel our way through it to find the tone. We didn't do any real rehearsals, because the cast all came in at different times. But there was an old photo of the [original] cast which I always remembered, so a couple days before shooting, we got the whole cast together to take a similar shot so everyone could see each other and get that vibe from doing a group photo. That helped set the tone more than anything.
He also says most of the movie is set in 1972 and it stays largely confined to the Stoddard house and the "internal family melodrama." He says there will be a bit of time travel in the movie, as was seen towards the end of the original show, but only a little. [MTV]
---
Men in Black 3
And here's the last scan from Entertainment Weekly, this one spotlighting Will Smith and Josh Brolin in 1969 riding futuristic motorcycles. [Comic Book Movie]
---
Journey 2: The Mysterious Island
Here are 33 hi-res promo images of the Journey to the Center of the Earth sequel, which gives us the long-awaited acting team-up of Michael Caine, Luis Guzman, and Dwayne "The Rock" Johnson.
---
The Adventures of Tintin
Steven Spielberg gives a general update on the second film, which he will produce while Peter Jackson directs, and the third, for which he hopes to return to the director's chair:
I'm not going to say which stories have been chosen for Peter Jackson's sequel because Peter and I agreed that we weren't going to let that information out yet. The script is now being written. It's more than one book, but it's not three books, so that means it's two books. It's two and a half books that we're combining with The Secret of the Unicorn. And Peter will start working on the film this year. When he's done shooting The Hobbit, he'll begin his performance capture work with the actors later in 2012, which I'm very excited about. And of course, I'm hoping I'll be able to direct the third one. I'd love to do the third one because I had so much fun on the first one.
[Collider]
---
Jurassic Park 4
Steven Spielberg confirms the project is moving ahead, but he is only involved as a producer, not director. [Collider]
---
Beetlejuice
Tim Burton confirms that he is considering doing another Beetlejuice movie with Abraham Lincoln: Vampire Hunter writer Seth Grahame-Smith:
Yes. I love that character, and Michael [Keaton] is so great in it. I always think about how great and fun that character was, so I just said to ["Vampire Hunter" writer] Seth [Grahame-Smith], "If you have some idea about it, go for it, and then I'll look at it freshly." In the past, I tried some things, but that was way back when. He seemed really excited about it.

Has he run any of his ideas by you yet?
No. I told him to try some stuff, but he hasn't come back to me yet. Michael was so great in it. I'm sure he'd strangely tap right back into it.
[MTV]
---
Mirror, Mirror
Here are some behind-the-scenes images of Lily Collins as Snow White and Nathan Lane as the Evil Queen's henchman in the decidedly non-gritty and almost painfully zany Snow White adaptation from Tarsem Singh. The article also features this brief description of Snow White from Lily Collins: