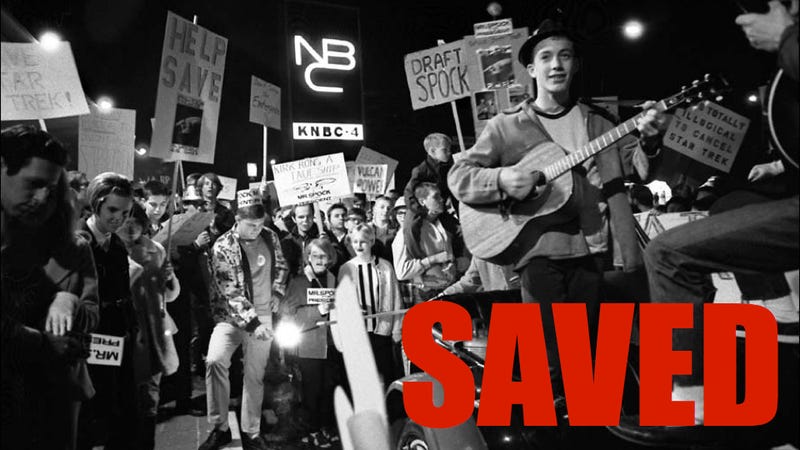 Do fan campaigns ever work? With Community still in questionable limbo, it's time to step back, assess past save-our-show protests, and learn from those motivated viewers who did succeed (however briefly). Which fans saved their series, and what can they teach us today?
Star Trek
One of the first great fan campaigning success stories. Demonstrations outside of the NBC offices and studios along with a colossal letter writing campaign, had a massive impact on the renewing of the original Star Trek. Execs admitted that the fans were heard and gave the green light to one more season of Star Trek in 1969; sadly, it was promptly cancelled that summer. The above image is from the LA Times vault. In this photo snapped by photographer Harry Chase on January 8th, 1968, you can see a group of Caltech students protesting outside of NBC's Burbank studios.
Jericho
Over 20 tons of nuts were shipped to CBS as part of a campaign to save the post-apocalyptic series Jericho. Why nuts? Because in the season finale episode "Why We Fight," character Jake Green is asked to surrender, to which he mutters "Nuts!" After boxes of nuts flooded CBS' offices, they conceded to one more season. In a statement from the President of CBS Entertainment Nina Tassler, the studio admitted:
You got our attention; your emails and collective voice have been heard. As a result, CBS has ordered seven episodes of "Jericho" for mid-season next year. In success, there is the potential for more. But, for there to be more "Jericho," we will need more viewers.
Alas, they didn't get more viewers, and Jericho was cancelled shortly after the next year.

Roswell
Fans sent in the hot teen aliens' favorite sauce, Tabasco, to prove that "Roswell is Hot." The studio received up to 6,000 bottles and in turn renewed the UPN drama for two additional seasons.