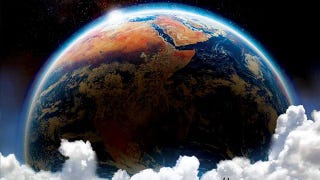 Science fiction and fantasy books are bigger than ever. A Dance With Dragons and Stephen King's time-travel saga rule the bestseller lists. Literary authors all flock to write about zombies, apocalypses and time travel. And by all indications, 2012 is going to be an even greater year for genre books.
Here are 25 books we can't wait to read in 2012.
Top image: Detail of cover art for Kim Stanley Robinson's 2312.
January
Distrust That Particular Flavor, William Gibson (Putnam)
William Gibson is best known for cyberpunk works like Neuromancer and fifteen-minutes-into-the-future thrillers like Pattern Recognition. But he's always been a keen observer of that moment where the future meets the now, and Distrust That Particular Flavor gathers years' worth of nonfiction writing into a single volume. Included are essays for Wired and Rolling Stone, plus other articles and even a speech from Book Expo America. Read our review here.