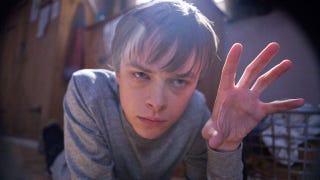 Are you curious about the down-to-Earth "found footage" movie about a trio of teens who get superpowers? We caught a sneak peek at some Chronicle footage, hosted by the director, and we liked what we saw. We also got a chance to talk to the film-maker, Josh Trank.
Will Chronicle save the found footage genre? Maybe. Spoilers ahead...
Who is Josh Trank?

Chronicle is Josh Trank's directorial debut, but he's been making geeky Star Wars short films for years. Back in 2007 Trank released the short film at left, entitled "Stabbing at Leia's 22nd Birthday." It's basically what would happen if the Empire ruled over our modern day world.
Not only is this short film full of nerdy goodness, it also demonstrates two things we learned about Trank as a filmmaker. He has an excellent ear for capturing teen vernacular — without going full blown Clueless and making up his own dictionary of imaginary teen talk. And he's got a dark, troubled mind. We like that.
Akira with a touch of Big Fan:
Last week, we showed you a brand new clip and trailer for Chronicle (and there's plenty more below.) And one thing many of you noted was how similar the car-crunching character Andrew is to Akira's Tetsuo. We saw it too, especially in the brief moment in the trailer when he's seemingly pushing away a crowd of cops with his brain powers.