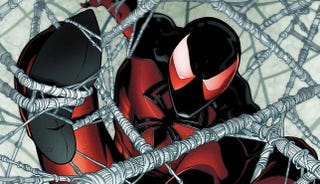 What science fiction and fantasy funny books will debut during the wee months of 2012? There's new UFO drama from Vertigo, Brian Wood penning Conan The Barbarian, and the X-Men and Avengers gearing up for fisticuffs. Here's a slew of brand new titles coming to comic stores soon.
Fantastic Four: Season One (Marvel)
Starting in February, Marvel kicks off their new-readers-friendly line of graphic novels with Fantastic Four: Season One by Roberto Aguirre-Sacasa. March sees the release of the Spider-Man, X-Men, and Daredevil (preview here) Season One books.