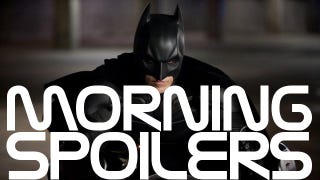 The Evil Dead reboot gives its leading role to the exact opposite of Bruce Campbell. Jeremy Renner explains the differences between The Avengers and Mission: Impossible. Bane's Dark Knight Rises dialogue wasn't remixed after all. Plus there's a possible Carrie remake!
It's spoilers all the way down!
Top image from The Dark Knight Rises.
Star Trek 2
Two British television stars have reportedly been cast in the upcoming sequel. First up is Noel Clarke, best known as the Doctor's former companion Mickey Smith on Doctor Who, who has been cast as "a family man with a wife and young daughter." Clarke has confirmed his casting on his Twitter, though he didn't comment specifically on what character he is playing. [Variety]
Next up is Sherlock star and owner of the most awesomely, ludicrously British name in history, Benedict Cumberbatch. He's reportedly been cast in an undisclosed part, and that it's reportedly a "lead role." The only rumored role that remains not cast is the main villain, a role originally linked to Benicio del Toro. And while I would absolutely love to see Cumberbatch as the big villain of the Star Trek movie, there's no real reason to think that's the part he's in line for. [Deadline]
---
The Dark Knight Rises
It looks like the reports of Bane's audio mix being changed for the prologue being shown before Mission Impossible IV may have been somewhat exaggerated. New York Times reporter Dave Itzkoff has tweeted, "Warner Bros. says 'no truth' to reports of new Dark Knight Rises prologue trailers going out with fixed Bane audio." What's more, IMAX executives have reportedly denied any knowledge of this rumor, and Collider has now retracted its initial story. [IGN]