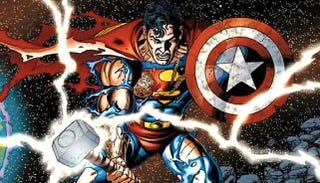 DC and Marvel have crossed over their superheroes officially on several occasions, but what about those times canny writers and illustrators snuck these titanic team-ups under the table? Here's a bunch of times Marvel and DC creators stealthily transcended universes.
10.) Teen Titans torches the X-Men's mansion
In 2011, former X-Men writer Scott Lobdell was tasked with writing DC Comics' reboot of Teen Titans. As part of what we can only assume was an "out with the old, in with the new" sort of burn (Ooh! Ooh!) the comic opens with an abandoned mansion in New York state's Westchester County bursting into flames. The X-Men's haunts tend to be a chichi Westchester academy, where — unbeknownst to everybody — the boathouse is a goddamn deathtrap.