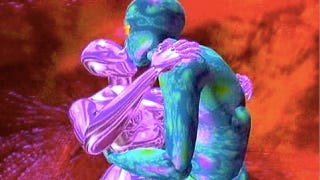 Did you know that there's a not unsubstantial corner of YouTube devoted to pornographic videos that aren't pornographic? And did you know that thousands of people click these painfully unsexy clips daily?
Welcome to The YouTube Fake Porno Nexus, a weird pocket of YouTube where the most stultifying videos rack up millions of hits, thanks to the clicks of the bored and the horny. Is this the future of online content?
Last May, YouTube reported that 48 hours of new video are uploaded every minute. And unless you want to upload pornography, graphic violence, hate speech, or copyrighted material, you can generally get away with whatever total nonsense you wish to foist upon strangers.
To get a sense of how much unwatchable pap exists on YouTube, give the Dadabot video aggregator, which creates a randomized playlist of YT's least watched videos, a whirl. Never before did I appreciate just how much blurry footage of Bangladeshi cricket matches roams the digital ether.
Anyway, YouTube's ban on naturism inspires some bizarre behavior amongst its users. Every now and again, the "Related Videos" sidebar (which normally fails to live up to its name) will display a video boasting A.) a titillating thumbnail; and B.) several million views.
Clicking on this thumbnail inevitably leads to 1.) an excruciatingly unsexy video; and 2.) yet another sidebar jammed with highly viewed, misleading recommendations. And yes, most of these recommendations lead to even more ersatz erotica.
I have no idea how deep this netherworld of simulacrum smut goes — one would likely die of disappointment trying to plumb its depths — but I do know it abuts infinity.
Yes, dear readers, The YouTube Fake Porno Nexus is out there, and its tendrils ensnare more Related Videos sidebars every day.
For example, take a look at the sidebar above. Notice the video titled "Tit Ange" with over one million hits. Well, that thumbnail leads to a montage of a nice Francophone couple's baby photos ("tit ange" = "petit ange" = "little angel" in English). The nudity-promising sidebar thumbnails adjacent to "Tit Ange" lead to such saucy clips as a PG-rated Cameroonian music video. (Top Comment with 45 Likes: "thumbs up if u just wiewed it becouse u thougt u were going to see tits")
And this phenomenon isn't isolated to "Tit Ange." Thousands of randy web browsers accidentally stumble into The YouTube Fake Porno Nexus daily, experiencing blue balls on a global scale.
As I type this, Nirvana's music video for "Lithium" has 12,843,412 views. Compare this with the 14,565,134 views for the trailer for the $10-budget indie film Search for Son (NSFW), which somehow snuck bare breasts into its thumbnail. The Top Comments for Search for Son:
"do not waste time ....go to 1:06," 77 Likes.

"It seems more enjoyable to see boobs on you tube than to simply type porn into google," 38 Likes.
This latter comment sums it all up. Despite the fact that the internet is essentially a shadow dimension weaved out of gossamer receipts of lost pizza boys and cable repairmen, YouTubers still act like confused adolescents thumbing through the Caldors lingerie catalog. They desperately hope that the half-frowning brassiere model on Page 7 will disrobe entirely on Page 8. (Spoiler Alert: There is a sale on Kenmore dutch ovens on Page 8.)
How did I discover The YouTube Fake Porno Nexus? Touché. Last Sunday evening, I needed a YouTube clip to accompany a post about the orang minyak, Malaysia's oil-covered sex monster. (I eventually settled on a clip from the Shaw Brothers' sleaze classic Oily Maniac, but that's neither here nor there.)